150bhp 1.0-litre EcoBoost engine possible
Ford is working on a 150bhp version of its efficient 1.0 EcoBoost engine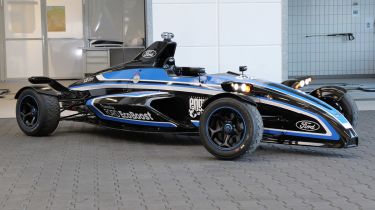 A higher power version of the acclaimed Ford 1.0-litre EcoBoost engine is currently being evaluated. Speaking to Auto Express at the launch of the facelifted Ford Fiesta, EcoBoost chief engineer, Andrew Fraser, said: "I've got my team working on an engine to see just how far we can push the unit in production trim."
The engine in the Fiesta develops 123bhp and engineers are aiming for a power output of 150bhp in an engine that's optimised to use the high-quality fuel available in the UK and Europe.
However, getting the 1.0-litre EcoBoost to develop 150bhp on a dyno is one thing, but, in order for it to be fitted to a production car, Fraser added that the engine "would have to complete a full development process," including Ford's tough endurance testing which includes "engine operation from -40 to plus 50 degrees Celsius."
A high power EcoBoost unit could be used in a production car, in limited numbers, more quickly, however.
Fraser told us that the one-off road-going Formula Ford (pictured), which was used to set a Nurburgring lap time earlier this year, has received unanimous approval from Ford execs who've driven it.
"It's done 30 laps of the Nurburgring, but hundreds of our track at Dunton [home of Ford's R&D facility]. Lots of Ford execs have had a go in the car, and asked if we could build more, if we could build 50."
The road going Formula Ford is powered by a 202bhp version of the 1.0-litre EcoBoost. The unit developed up to 220bhp on the engine dyno in testing, too, thanks to the fact that it was upgraded with the larger turbocharger from the 1.6-litre EcoBoost engine that's set to power the 180bhp Ford Fiesta ST next year.