Mercedes EQC - Best electric cars
First Mercedes in EQ line up is the EQC and it sets a good precedent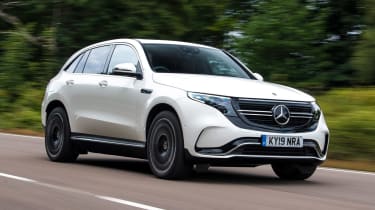 Price: £65,720-£74,310
Range: 259 miles
Charging time: 12h 45 min (wallbox), 40 min (10-80%, 110kW)
Rating: 4/5
In a similar situation to Audi, Mercedes was desperate to get a pure-electric model to market – and the EQC is the result. Eventually there will be a full range of bespoke electric EQ Mercedes, but in this case, the first model to wear the badge is an SUV that shares much with the mid-sized GLC range.
At the heart of the EQC is an 80kWh battery pack, which gives the car a range just shy of 260 miles; a clue that this car isn't exactly light. However, there's plenty of power and torque on tap to shift the bulk, with two motors – one on each axle – delivering a combined 403bhp and a whopping 760Nm of torque.
Performance is more than acceptable as a result, but the EQC isn't the largest SUV on the market, so while the boot will be sufficient for most families' needs, four adults won't be entirely comfortable on a long journey. Some rivals offer faster charging, too.
As Mercedes' first EV, the EQC is an accomplished effort, rather than a groundbreaking one.
Best electric cars to buy 2020