Dogs make you drive more carefully
Having a dog in the car makes motorists drive more carefully, although many are unaware of the rules around transporting pets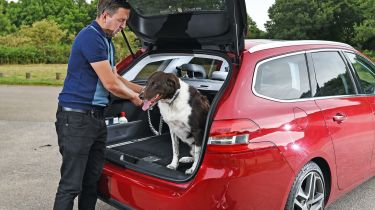 More than half of motorists drive more carefully when they have their dog in the car, but a significant number are unfamiliar with the rules around transporting pets.
Some 54 per cent of motorists say they are more careful driving with their dog on board. This figure rises to 69 per cent for 18-24-year-olds, but falls to 42 per cent for drivers aged 55 or over.
The figures come from a survey of 2,000 drivers carried out by SEAT UK, which also showed motorists from London are the most likely to be more careful when driving with a dog in the car. In addition, 35 per cent of respondents said they feel calmer when they have their dog in the car with them.
The Highway Code requires drivers to suitably restrain any dogs in their car, but a third of those surveyed were not sure if there were any rules, while nine out of 10 didn't know of the maximum penalty of a £5,000 fine and nine penalty points on their licence.
Furthermore, one-fifth of respondents admitted when questioned that they do not restrain their dog in the car, meaning they're flouting the law.
Nigel Griggs, head of aftersales at SEAT UK, commented: "Everyone knows the British public is passionate about its dogs. However, this study confirms that having their best friend in the car can contribute to safer driving while also having a positive mental health benefit by reducing stress levels. It appears to be a win-win.
"Motorists still need to make sure they're keeping their dogs safe while travelling, too, and finding comfortable and secure in-car pet accessories to properly restrain pets is as important as using your own seat belt."
Do drive more carefully if you have a dog in the car? Let us know your thoughts below...