New police speed camera can catch drivers from 750 metres away
TruCam II speed guns cost around £10,000 each and feature both a night mode and an auto-focus function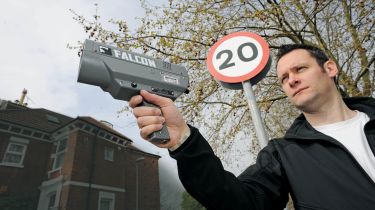 Police forces in the UK are being equipped with a new type of speed gun that can read a vehicle's number plate from up to 750 metres away.
Constabularies across the country have confirmed trials of the TruCam II Speed Enforcement Laser, each of which costs around £10,000. The devices work both in the daytime and in the dark thanks to a new night-mode feature.
The TruCam can automatically focus on a car approaching from half a mile away, with vehicle data uploaded to a database, after which a penalty charge notice is sent to the registered keeper. This means police don't need to pursue and pull over speeding drivers.
Using an integrated laser, the TruCam measures the time and distance between vehicles. It contains a digital camera that can collect and store HD video evidence of a speeding offence. The device itself is actually capable of reading number plates from up to 1.5km away, but UK police are calibrating theirs to 750 metres, in line with tolerances set by the UK Government.
Various police forces - including Gloucstershire, Northumbria and Warwickshire constabularies - have begun using the TruCam II. Macclesfield South Police - part of Cheshire Police - reported on Twitter that it had deployed the device multiple times without catching anyone, but on a recent outing someone was caught in excess of 35mph in a 30mph zone.
The TruCam II was approved for use by UK police forces back in June, with the rollout now underway. The previous generation TruCam - which could only be used during daylight hours - has been used by some forces in the country for more than six years.
We have everything you need to know about UK speed cameras here...