Volkswagen T6 Transporter - best medium panel vans
The VW Transporter is a classy customer that brings Volkswagen passenger car build quality to the LCV segment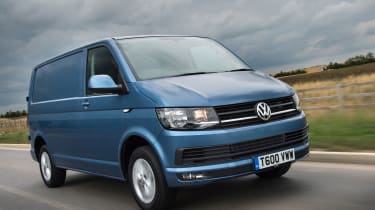 With the death of the new Beetle in 2018, the Volkswagen Transporter is the longest-lived family of vehicles produced by VW. OK, so the Transporter name was retroactively added to the earlier Type 2s, but you get the idea. As we're on the T6, you know that this is the sixth generation, which was introduced in 2016. It's getting a facelift in 2019, too, which is designed to give it even more car-like kit and quality inside.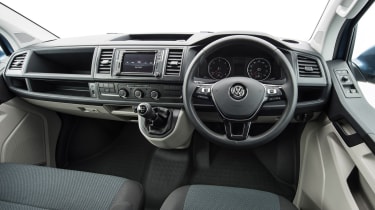 While rivals offer greater load volume, the T6 is more of a premium van, which is why it's offered in higher specs such as the body-kitted Sport trim and the premium Executive shuttle bus variant. And of course there's the ubiquitous California camper version for those that enjoy the great outdoors.
While the T6 dabbled with petrol power briefly, you're left with diesel options for now, but VW's 2.0 TDI is a strong performer, while adding the DSG twin-clutch auto takes the strain out of driving.
If you're after something more eco-minded, then the e-Transporter on the way. With the same running gear as the VW e-Golf, it has a driving range that's good enough for a day's work doing urban deliveries.
Best medium panel vans 2019
2. Volkswagen T6 Transporter
5. Nissan NV300
7. Fiat Talento
10. Toyota Proace