Rolls-Royce Dawn Black Badge - pictures
Rolls-Royce has added a third car to its 'Black Badge' string of bespoke luxury cars, introducing a convertible to the line-up in the form of the new Dawn Black Badge.
It lines up alongside Black Badge versions of the Wraith and Ghost, both of which were unveiled at the Geneva Motor Show back in 2016. The new Dawn makes its debut at this year's Goodwood Festival of Speed.
Rolls says that these cars are edgier than its usual fare and they're aimed at younger buyers. Bespoke finishes, black paint and engineering tweaks set Black Badge cars apart from their regular counterparts.
The Dawn Black Badge is no exception. For starters, the solid black paint finish is created using multiple layers and paint and lacquer to create what Rolls Royce calls "the deepest, darkest and most intense black to ever grace a production car surface". The folding roof canvas is only available in black, while the rear deck is upholstered in black leather too. 
The Spirit of Ecstasy can't escape the shadowy treatment either, and is finished in black chrome, as are the exhaust tips, plus the radiator grille surround and boot lid finisher.
In the cabin, Rolls has devised a bespoke treatment for many of the trim panels, consisting of intricate threads of aircraft grade aluminium bonded with carbon fibre. The surfaces are smoothed and polished with six coats of lacquerer to produce a mirror finish. Black leather upholstery is contrasted against orange highlights, which Rolls Royce says evokes the sunset.   
Changes come under the skin too, the biggest being the extraction of an additional 30bhp from the Dawn's 6.6-litre twin-turbo V12 engine, bringing total power to 593bhp. Torque has been boosted by 20Nm as well, bringing the total to 840Nm from 1,500rpm.
Despite these advances, the same 4.9-second 0-62mph time and limited 155mph top speed apply. Instead, Rolls has gone with tweaks to the transmission, throttle and suspension in a bid to differentiate the Dawn Black Badge, while larger brakes and a new active exhaust system are fitted. No prices have been revealed, but cars are available to commission now. 
Go to: Rolls-Royce Dawn Black Badge arrives at Goodwood
'MG's sales must rank as the success story of the year, possibly the decade'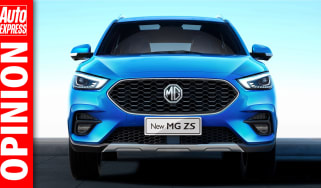 'MG's sales must rank as the success story of the year, possibly the decade'
Mike Rutherford says plenty of big car brands could learn from MG's focus on cheap cars
Hyundai i30 vs Volkswagen Golf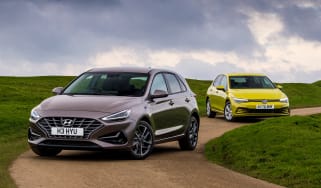 Hyundai i30 vs Volkswagen Golf
Can the updated Hyundai i30 provide tough competition for the latest Volkswagen Golf?
Best electric cars to buy 2021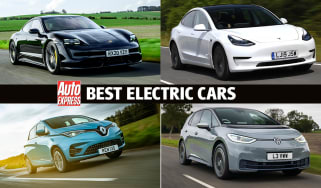 Best electric cars to buy 2021
There are more electric cars than ever to choose from, so we've picked some of the best you can buy in the UK now