Falken Ziex ZE914 Ecorun review
Handling needs improving, but fuel economy is best in class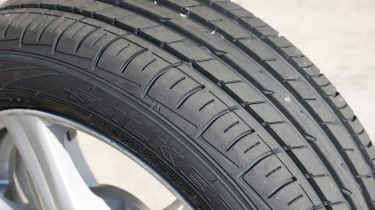 Handling needs improving, but fuel economy is best in class
One of the toughest tasks facing tyre engineers is getting good fuel economy from a tyre without heavily compromising wet grip. But the elements required for one directly conflict with those needed for the other.
So with Ecorun in the name, this tyre left us concerned Falken had focused on green credentials at the expense of wet road ability. And sure enough, the ZE914 trailed last around the sweeps of the soaking track. The long turn exposed the lack of bite and a rear that wanted to move every time the front gripped. Plus, the tyre lacked traction out of the turns, where it also finished last. But the results got better from there for the subsidiary of giant tyre maker Sumitomo. It was fifth and right in the middle of the pack in wet braking. It was also on the pace in the deep water of the aquaplaning tests. In the dry it felt soft, plus required more lock than most.
Its braking prowess continued in the dry, where it was a little over two metres off the winning Dunlop. It might have felt soft on the circuit, but that didn't mean the quietest ride, as it could do no better than 10th. And fuel economy? It was a step off the top three but was the best of the mid-range brands.
Buy the Falken Ziex ZE914 Ecorun tyre from Black Circles here
| | | |
| --- | --- | --- |
| Price | £55.94 | |
| Dry handling | 97.20% | =10th |
| Dry braking | 94.20% | 4th |
| Wet handling | 91.40% | 11th |
| Wet braking | 86.40% | 5th |
| Wet cornering | 89.30% | 11th |
| Straight aqua | 96.50% | 7th |
| Curved aqua | 92.90% | 3rd |
| Rolling resistance | 84.10% | 5th |
| Cabin noise | 98.20% | 10th |
| Overall | 96.70% | 7th |