Avon ZV7 review
The competition has moved on since Avon last appeared in our tyre tests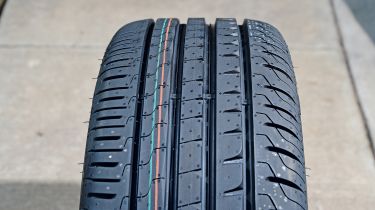 It has been more than 10 years since Avon featured in our tyre tests, even though the Cooper-owned British brand has been invited. We hope this result won't mean another decade passes before it returns because there are few positives in these results; its ZV7 trailed rivals in most tests and was some way behind the next best overall.
The high spot was a win in the cabin noise test, where it proved effective at damping the roar over rough concrete. It was also among the quietest over the tarmac. But elsewhere there's work to do. We've often seen label ratings at odds with our results, but none as stark as this.
While the Avon has the top A wet grip rating, it finished last behind tyres with lower grades. Label ratings are established in optimum conditions and obviously the Texas heat didn't suit the ZV7. It needed just under seven metres more to stop in the wet than the pace-setting Pirelli; when that tyre had come to a halt, this was still doing 25mph-plus.
Around the wet circuit it felt secure with little rear movement, but didn't have the same grip as rivals. It was a similar story on the wet circle. It fared little better in the deeper water of the aquaplaning where it just managed to beat the Pirelli in the lateral test. In the dry the tyre felt soft, although the balance was good. But the lap times were not there; it was more than a second off the leading pace.
Blackcircles.com says…
"One of our most popular tyres, with over 4,500 customers rating it 4.7/5. Reviewers are impressed with the performance and value."
Figures
Avon ZV7
Overall
96.30%
10th
Price
£72.65
Dry handling
98.00%
8th
Dry braking
89.80%
10th
Wet handling
93.60%
10th
Wet braking
83.90%
10th
Wet cornering
94.80%
10th
Straight aquaplaning
95.60%
10th
Curved aquaplaning
85.10%
9th
Rolling resistance
79.20%
8th
Cabin noise
100%
1st