2,000 lorries a year crash into rail bridges
Network Rail launches campaign to stem tide of lorry 'bridge bashing', with each strike costing taxpayers £13,500 to fix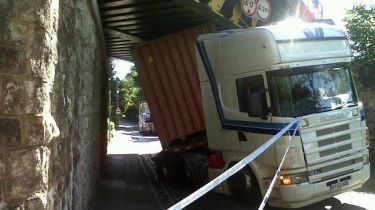 Drivers of oversized lorries who are unfamiliar with their vehicles' dimensions are responsible for almost 2,000 bridge strikes a year, Network Rail has announced.
UK commuters suffer hours of delays as a result of lorries striking bridges, with individual bridge strikes delaying trains by two hours on average. Taxpayers, meanwhile, are left footing £23million in annual bills due to the damage and delays the accidents cause, with each strike costing around £13,500 to put right.
Some of the worst hit bridges are struck once a month or more, with one in Ely, Cambridgeshire being bashed 113 times since 2009 and a bridge in Tulse Hill, south London, being impacted 92 times over the same period.
Research has found some 43 per cent of lorry drivers don't know the size of their vehicles, while 52 per cent said they didn't take low bridges into account when planning their journeys. Around five bridges are hit by lorries every day in the UK.
Network Rail is launching a 'what the truck' campaign to reduce bridge strike incidents. The programme involves fitting steel beams to rail bridges to reduce the damage inflicted on them by lorries, improving signage displaying bridge heights and calling for drivers who hit bridges to face stiffer penalties.
Sir Peter Hendy, chairman of Network Rail, said: "Every incident creates potential delay for tens of thousands of passengers and potential costs for taxpayers, and this is happening multiple times a day… we need professional HGV drivers and their operator employers to get behind and support this campaign."
Haulage firms have broadly welcomed the campaign: Eddie Stobart's chief operating officer, David Pickering, says his company is installing software early next year which will "warn drivers with an audible alarm when they are approaching a bridge."
Should more be done to prevent lorries hitting bridges? Let us know your thoughts below...