New laws introduced to allow remote control car parking
Drivers will be allowed to remote-park their cars from June 2018 following regulation changes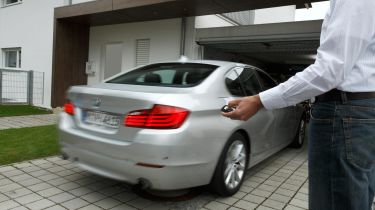 Parking your car via remote control will soon be legal in the UK, after the Government announced changes to UK driving laws.
Although currently reserved for high-end models like the BMW 5 Series, remote control parking allows drivers to park their cars using its key fob or a smartphone app, and can be particularly helpful for those with reduced mobility.
• Driverless cars: everything you need to know
But UK laws surrounding remote control parking systems have previously been something of a grey area, with transport chiefs saying "uncertainty" could lead authorities to interpret them as "being in contravention" of regulations related to using a hand-held mobile phone when driving.
Following a public consultation and approval from the Driver and Vehicle Standards Agency (DVSA), laws surrounding the issue have been updated, with the changes coming into effect from June 2018.
A clause has also been added to the Highway Code (itself not a legal document), reading: "You may park your vehicle using a handheld remote control app or device. The app or device MUST be legal, and you should not put other people in danger when you use it."
The Code will highlight, however, that motorists will "still be responsible for the vehicle" when using remote parking devices, and must make sure it is safe to use the system, remaining in control of the vehicle at all times. Drivers must also not use such systems (some of which are controlled via smartphone) for any other reason when remote parking their cars.
• How to appeal a parking ticket
Transport Minister Jesse Norman said: "Features such as remote control parking and motorway assist have the potential to transform car travel, adding greater convenience and accessibility to drivers, so that they can park and drive with more confidence."
The consultation was previously welcomed by Mike Hawes, chief executive of the Society of Motor Manufacturers and Traders, who said: "These proposals, providing clarity and confidence to consumers, are good news. We welcome government's continued commitment to keep the UK at the forefront of connected and autonomous vehicle development and rollout."
Do you think remote parking is a good idea? Let us know in the comments below...