Call for cats to get same road rights as dogs
Carbuyer survey found most drivers favour making it a legal requirement to report accidents involving cats to the police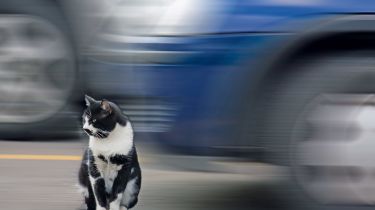 The Chinese Year of the Dog may have just started, but drivers in the UK are calling for equal rights for cats on the road, according to a new survey.
Motorists who run over a feline should have to report the incident to the police, as they currently have to do when striking a dog, a survey by our sister publication Carbuyer found.
Current rules require drivers to report it when they hit a number of animals, including horses, cattle, sheep and dogs, but cats aren't on the list.
• Best cars for luggage space and pets
The Carbuyer study found 59 per cent of drivers are in favour of a law requiring motorists to report cat incidents on the road. The Labour Party recently announced its Animal Welfare Plan. In it, the party calls for a reform in domestic pet laws such as mandatory microchipping for cats and a new ruling that would require "motorists to report accidents where an animal has been injured".
Animal rights campaigner Mandy Lowe told Carbuyer: "If a driver doesn't make attempts to locate the owner, or take the cat to a vet to be scanned for a microchip, the body will be left for the local council's waste disposal teams to collect."
She said this meant owners would "never get the closure they deserve" if their pet was hit by a vehicle.
Figures from Highways England, which manages England's motorways and major A-roads, show that 320 dead cats were found on its network over a two-year period.
Do you agree? Should cats have the same rights as dogs? Let us know your thoughts below...