DVLA closure to make taxing cars impossible this weekend
Scheduled website maintenance means car buyers will temporarily be unable to tax vehicles with the DVLA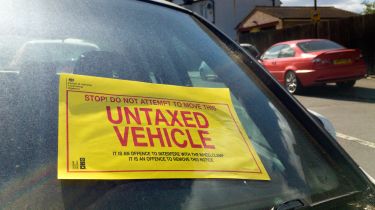 The DVLA website and call centre will be closed for a systems upgrade this weekend, potentially causing problems for anyone buying a used car and who needs to drive it home.
A notice issued by the DVLA last Tuesday states most of its services – including the 24hr phone service and call centre – will be unavailable from 3pm on Friday 17 August until the following Monday morning. The website is scheduled to come back online at 6am, but the call centre won't start working until 8am. Because Post Offices rely on the website too, you won't even be able to tax your car over the counter.
• VED road tax: everything you need to know
The DVLA notice includes a legal reminder: "Remember, it's against the law to drive an untaxed vehicle on the road," it says. "If you buy a car this weekend you won't be able to tax it until 6am on Monday. We're sorry for any inconvenience this may cause."
While many motorists wrongly believe there's a 'grace period' to get your car taxed, this hasn't been true for years. Nowadays any outstanding vehicle excise duty paid for by a previous owner is cancelled the moment ownership is transferred. The new owner has a legal duty to pay VED before their new purchase turns a wheel on the road.
With the prevalence of Automatic Number Plate Recognition systems, car buyers who might be tempted to take a chance and drive untaxed for a couple of days risk automated fines. The maximum penalty for driving with no VED is a hefty £1,000.
The main risk of breaking the law applies to used car buyers, as many may not even be aware the service is closed until they try to tax a newly acquired vehicle at the point of sale – potentially even having travelled a significant distance to do so.
Automobile Association spokesman Jack Cousens suggests while there's a need to be sanguine about the closure, drivers shouldn't expect to get away with driving untaxed. "There's never a good time for this sort of thing, but the DVLA has been absolutely clear there is no leniency for anyone caught with an untaxed car over the period of this closure," he says. "So yes, it's a nuisance, but our advice to anyone buying a used car is don't do it this weekend!"
Steve Latham, chief of operations for the National Franchised Dealers Association, says the closure shouldn't affect new car buyers as retailers had plenty of warning to tax cars in advance. "We were notified well in advance so it shouldn't cause any problems for new car retailers," he says, "although if the system isn't back again Monday I'll be expecting a lot of phone calls."
Will you be affected by the planned DVLA website closure? Let us know in the comments section below…