Rinspeed MicroSNAP concept previewed ahead of CES Las Vegas debut
Renowned concept car design house Rinspeed aims to revolutionise inner-city deliveries with the MicroSNAP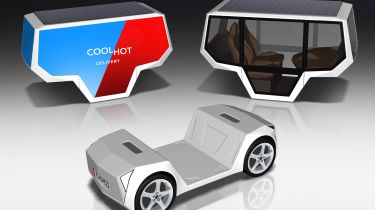 Famous for creating some of the world's wildest concept cars, Swiss design think tank Rinspeed is aiming to bring autonomy to delivery vehicles and taxis with its driverless SNAP and MicroSNAP projects.
Featuring the same 'skateboard' chassis design as the recent "omnipresent robo-taxi" SNAP concept shown at the 2018 Consumer Electronics Show, the new, smaller MicroSNAP uses interchangeable 'pods' (bodies) that can be selected depending on your needs.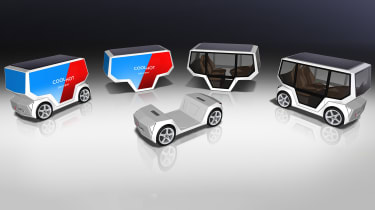 With the same diminutive dimensions as a Renault Twizy, the autonomous robotic chassis is designed to speed up delivery times in even the most congested of city centres. Company boss Frank M. Rinderknecht envisions a future where swarms of MicroSNAPS head out on individual deliveries 'just in time' in place of one big van doing multiple deliveries along a route.
The bodies are designed to last as long as any modern car, while the skateboard chassis contains all the major parts that are subject to wear and tear. The two individual components therefore, do not share a service life and after a few years the chassis and electric powertrain are recycled, thus avoiding expensive hardware and software updates.
Neither project has yet been confirmed for production but the recent demand for fresh food deliveries and ride sharing suggest they could have a future.
The MicroSNAP is due to be revealed at the Las Vegas CES in January 2019, featuring two different 'pods' - a van body and a taxi, each of which can be autonomously installed in seconds.
Do you think the MicroSNAP will catch on? Let us know in the comments...