Fleet-owned plug-in hybrids may never have been charged
Analysis of PHEV company cars, which were bought with subsidies, indicates drivers are running predominantly on petrol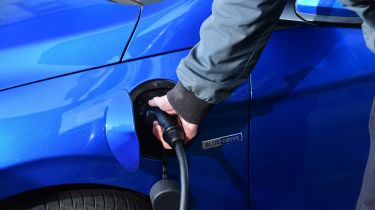 Company car drivers running plug-in hybrids are seeing average fuel consumption of just 40mpg – around a third of official figures – leading experts to consider many PHEVs are not being plugged in at all, and are running on their internal combustion engines alone.
The research was carried out by The Miles Consultancy, a specialist firm that helps companies interrogate their workers' driving habits and fuel consumption figures. By analysing economy figures for around 1,500 cars, the consultants calculated average fuel economy for PHEVs at 39.27mpg.
• Best plug-in hybrid cars on sale
Official figures indicate some of the more common PHEVs on the market should return around 140mpg. And while drivers who regularly charge up their PHEVs' batteries are actually likely to see a figure of around half that in the real world, The Miles Consultancy claims many drivers did not even bother unwrapping their cars' charging cables from their cellophane packaging.
Before the government abolished the Plug-in Car Grant for PHEVs, buyers could save £2,500 off the list price of a new plug-in hybrid, while those who bought a PHEV before March 2016 could get a £5,000 discount. Around 70 per cent of PHEVs purchased so far in 2018 were said to have gone to company car fleets.
As well as discounts on purchase prices for fleet buyers, those running a PHEV on a company car scheme have also enjoyed advantageous Benefit-in-Kind (BiK) rates due to their cars' low official carbon dioxide emissions. BiK rates for a car emitting 50g/km of CO2 (typical on-paper emissions for  PHEV), for example, currently stand at just 16 per cent. A comparable petrol car would emit around 140g/km, while a diesel might manage 110g/km, leading to respective BiK rates of 29 and 27 per cent respectively.
Paul Hollick, The Miles Consultancy's managing director, told the BBC, which commissioned the research: "There are some examples where employees aren't even charging these vehicles up. The charge cables are still in the boot, in a cellophane wrapper, while the company and the employee are going in and out of petrol stations, paying for all of this additional fuel." 
The British Vehicle Rental and Leasing Association (BVRLA), which represents a number of large fleets, told the BBC "a poorly designed tax regime is driving some poor behaviours", adding: "We have got some situations where company drivers are choosing the vehicle based on their tax liability, rather than having the right vehicle for the right job." 
Mike Hawes, chief executive of the Society of Motor Manufacturers and Traders, said: "We need policies that encourage consumers and businesses to invest in the cleanest cars, however they are powered."
These are the best plug-in hybrid cars currently on sale...