91% of UK drivers say they're "careful and competent"
Some 91 per cent of motorists claim to be "careful and competent" drivers, but over half have broken 20mph and 30mph speed limits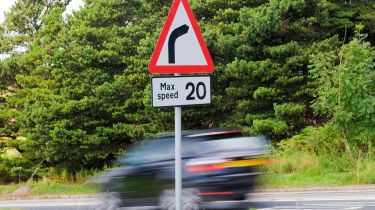 New research has revealed 91 per cent of motorists say they are "careful and competent" drivers, yet 52 per cent say they have broken 20mph speed limits and 57 per cent said they had sped in 30mph zones. A further 58 per cent told researchers they had rushed through a traffic light as it turned from amber to red.
Recent figures from the Department for Transport suggests speeding rates may be even higher than that, though, with 86 per cent of observed cars speeding in 20mph zones.
But while the majority of motorists admitted to breaking speed limits and cutting it fine at lights, opinions related to drink driving are more in-step with legislation. Some 94 per cent of those who described themselves as "careful and competent" drivers said they had never broken the drink-drive limit. Meanwhile, 84 per cent haven't used a handheld mobile phone while driving, though four per cent admitted they did this more than once a day.
The research comes from a survey commissioned by Cycling UK and carried out by YouGov, which also found the vast majority of respondents calling for tougher penalties for motorists who injure others.
In cases where drivers are convicted of causing serious injury, 77 per cent of respondents say they should face an automatic minimum ban, while 83 per cent said there should be an automatic ban for killing someone.
At present, driving bans are supposed to be automatically applied for the offence of causing death by dangerous driving. However, Ministry of Justice figures show 61 motorists convicted of causing serious injury by dangerous driving escaped a direct ban last year, while 28 found guilty of causing death by careless driving were also not directly disqualified.
Some 83 per cent of all respondents said drivers who cause a serious injury should be automatically retested, while 86 per cent called for the same in the case of a fatality. Currently, only drivers convicted of causing death by dangerous driving are retested by default.
Cycling UK's head of campaigns Duncan Dollimore described laws around careless and dangerous driving as a "mess". He said: "It's clear the public believe that drivers who have presented the most danger to others should be removed from our roads, but they're less clear about what amounts to risky behaviour."
Joshua Harris, director of campaigns at road safety charity Brake, condemned "flaws" in the current road law framework and called for a "review of road traffic offences and penalties" in order to "regain the public's trust and to ensure that just and fair outcomes are consistently delivered".
Should there be tougher sentences for driving offences? Let us know in the comments below...