Drivers travelled a record number of miles in the UK in 2017
Government figures show Brits travelled 327 billion miles last year, while car greenhouse gas emissions fell despite rising traffic levels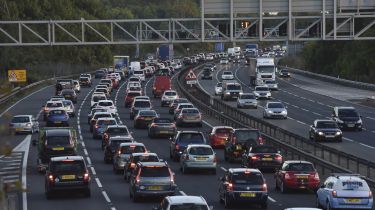 Motor vehicles in Great Britain travelled a record distance of 327 billion miles in 2017 – 1.3 per cent more than in 2016.
Of the 327 billion miles travelled, 254 billion were covered by passenger cars (up one per cent more on 2016), 51 billion by vans (up three per cent), 17 billion by lorries (up one per cent), three billion by motorcycles (no change) and two billion by buses (down three per cent).
Data from the Department for Transport (DfT) also shows the volume of greenhouse gases emitted by cars has decreased by three per cent since 1990, despite car traffic having risen 22 per cent over the same period of time. The DfT says this can be "partially attributed to cars becoming more fuel efficient".
• Diesel MoT failures quadruple under new emissions test rules
Van traffic has grown faster than any other type of vehicle since 2006, while lorry traffic increased between 2016 and 2017 but is still below the record levels seen in the mid-2000s.
Motorways – which account for approximately one per cent of Great Britain's road network – saw 21 per cent of the traffic, while urban A roads (three per cent of the network) saw 15 per cent, rural A roads (nine per cent of network) saw 30 per cent, urban minor roads (35 per cent of network) saw 20 per cent and rural minor roads (53 per cent of network) saw 14 per cent.
The DfT's figures also show 86 per cent of cars, 84 per cent of vans and 75 per cent of rigid HGVs break the speed limit in 20mph zones. Meanwhile 52 per cent of cars break the limit on 30mph roads and 48 per cent do so on motorways.
• Official: almost all drivers break 20mph limits
Commenting on the data, AA president Edmund King said cars are the most popular form of transport because they are "flexible, cost-effective, personal and safe".
He added: "It is lamentable that for all the pontificating about the sins of driving, the alternatives continue to fail to evolve."
King went on to say the AA is "greatly concerned" about greenhouses gases from cars and said "more incentives are needed to encourage both businesses and private drivers to switch to the cleanest possible vehicles as quickly as possible".
Finally, he claimed the Government's cuts to the Plug-in Car Grant sent out the "wrong signal" and "could increase the pollutants produced by transport as drivers keep hold of their vehicles for longer as the demonisation of diesel continues".
How much time do you spend on the road? Let us know below...