All-electric Kia e-Niro sold out after a month on sale
The initial UK production run of 900 Kia e-Niros has already sold out, and new orders will be delayed due to a supply chain bottleneck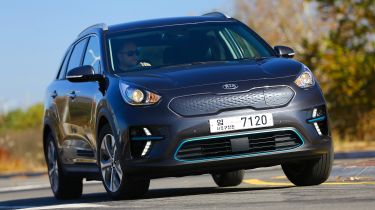 Kia has sold all 900 e-Niros allocated for the UK market in 2019 in a matter of weeks. Lead times are set to increase for future orders, with the next batch of e-Niros not being set to land in the UK until 2020 due to a manufacturing bottleneck.
Demand for the all-electric Kia e-Niro, as well as its sister-model the Hyundai Kona Electric, has been greater than expected. As a result, the firms' battery suppliers (which include Samsung and LG) have been unable to cope with the e-Niro's production volumes, despite doubling their outputs.
Deliveries for the new Kia e-Niro were supposed to commence in April. However, as a result of the e-Niro's popularity and the production bottleneck, buyers who managed to snag one of the initial 900-model run may have to wait until the end of 2019 before taking delivery.
John Hargreaves, Kia's head of fleet and remarketing, said the battery pack supply chain issue is likely to remain "a restraining factor for at least another 12 to 18 months."
Despite the supply chain issue, Kia remains optimistic that battery production will increase over the next year and, by 2020, the bottleneck will be remedied and manufacturing will stabilise.
Now read our review of the Kia e-Niro. Let us know your thoughts in the comments section below…