Car driving licence holders to be allowed to drive alternatively fuelled vans
New rules will allow motorists with standard category B driving licences to drive alternatively fuelled vans weighing up to 4.5 tonnes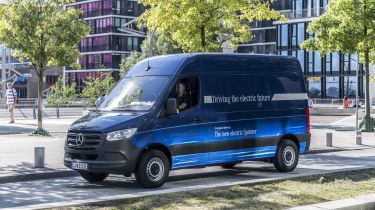 Motorists who hold a standard car driving licence will be allowed to drive alternatively fuelled vans, it has been announced.
At present, category B licence holders are allowed to drive vans with a kerbweight of up to 3.5 tonnes, but hybrid and electric vans are known to weigh more than their petrol and diesel counterparts as a result of their heavy batteries.
The Government, therefore, has decided to change the existing regulations so that category B licence holders are allowed to drive alternatively fuelled vans weighing up to 4.5 tonnes, on the condition that they complete a minimum five hours of additional relevant training beforehand.
The rule change comes as part of the Department for Transport's (DfT) Road to Zero Strategy, which aims to encourage the uptake of low and zero emission vehicles before the sale of new petrol and diesel models is banned in 2040.
Vans have a higher usage rate and higher emissions on average than cars, hence the DfT is keen to encourage the transition to alternative fuels in this sector.
• Volkswagen and Ford team up to build vans and boost competitiveness
The five hours of additional training category B licence holders will be required to undertake before being allowed to drive the alternatively fuelled vans may only be provided by members of the two Government-recognised LGV (light goods vehicle) training providers – the National Register of LGV Instructors and the National Vocational Driving Instructors Register.
Future of mobility minister Jesse Norman said: "The Government's Road to Zero Strategy sets out our ambition for all new cars and vans to be effectively zero emission by 2040.
"By changing these driving licence requirements, we are seeking to support business owners by enabling them to use alternatively fuelled vehicles more easily."
Would you ever be tempted to buy an alternatively fuelled van? Let us know in the comments below...