New Hennessey Venom F5 Roadster considered
A Hennessey Venom F5 roadster is currently under consideration as the firm starts building the first Venom F5 prototype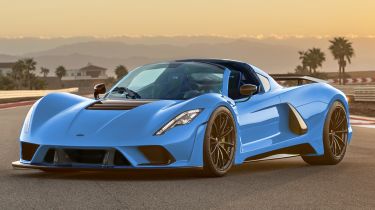 Hennessey Performance has started building the first Venom F5 prototypes in preparation for the car's upcoming testing programme, which is scheduled to begin later this year. And now the firm has also announced it is considering a building a roadster variant.
The firm's latest hypercar, due to go on sale in 2020 with production limited to just 24 units, will cost from $1.6 million (£1.25 million). The proposed roadster would also likely be limited to 24 units as well as demanding a hefty price premium over the coupe.
Our first look at the Hennessey Venom F5 was at the 2017 SEMA Show in Las Vegas, where the firm revealed the car's interior for the first time. The dashboard, doors and floor all made from carbon fibre, while pull cords are used instead of traditional door handles to save weight.
The F5 also features quilted yellow upholstery along the doors and on the dashboard, while the seats and the steering wheel are trimmed in Alcantara. An information screen sits on top of the centre console, along with a Formula One-style digital display on the steering wheel.
The F5 is based around clean-sheet carbon fibre that has been designed and engineered by Delta Motorsport, based in Silverstone. Hennessey claims the F5 will weigh 1,338kg and despite being almost 100kg heavier than its Venom GT predecessor, it should offer better performance thanks to new active aerodynamics and a slippery drag coefficient of 0.33cd.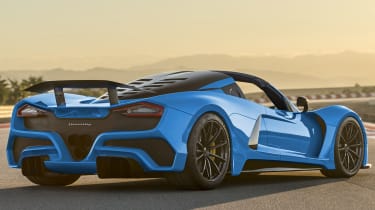 Power comes from a 1600bhp twin-turbocharged V8 engine, which Hennessey hopes will give its new hypercar a 290mph top speed. Hennessey claims that the F5 can accelerate from 0-186mph in less than 10 seconds, which is faster than a Formula One car. The sprint from 0-249mph and back to zero will is claimed to take less than 30 seconds, beating the world record-holding Koenigsegg Agera RS by over six seconds.
Koenigsegg currently holds the production car top speed record of 277.9mph, which was set by the Agera RS. Hennessey previously held the unverified record of 270mph, set by the Venom GT in 2014. However, that test was run in only one direction rather than two, therefore not fitting the Guinness Book of Records criteria.
Can the Hennessey Venom F5 really top 300mph? Read our list of the world's fastest production cars to see what it has to beat…