Should I buy a nearly new car?
If you're not fussed about ordering a brand-new car to your exact needs, then bag a big bargain and buy a nearly new car instead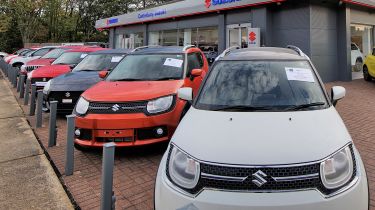 The most straightforward answer to the question 'should I buy a nearly new car?' is yes, if you can afford it. But of course it's a lot more complicated than that. Dealers across the UK offer nearly new cars on their forecourts, and choosing one can give a good deal to buyers that need a car, but aren't bothered about picking their own exact specification.
You can save hundreds - even thousands - of pounds on the list price of a new car if you buy this way, and it also opens up more choices for buyers with a fixed budget. Here we guide you through the nearly new car basics.
What is a nearly new car? 
Technically a nearly new car is a second hand car, but only because it's been registered by a manufacturer or dealer before being sold on. So if you do buy a nearly new car, you won't be the first registered keeper, but you will be the first person to put in any serious time behind the wheel of it. And if you're planning to keep it for a long time, then the whole issue of who was the first owner is rather irrelevant anyway.
You won't be the first registered keeper on the V5C registration document, but to all intents you're getting a brand-new car, which is why nearly new cars are so attractive. 
The only major difference between nearly new and brand-new is that you won't be able to pick your specification, as this will have been dictated by somebody else. However, if you're looking to buy a nearly new car within a franchised dealer network, and you're willing to compromise to bag a bargain, then you will have the choice of a manufacturer's stock across the whole country, so there is likely to be a model available somewhere to closely match your desired specification. 
Pre-registered and ex-demonstrator cars 
The majority of nearly new cars are pre-registered, and will be labelled as 'delivery miles' in adverts. That's because these cars will have spent most of their young lives being moved around the country on a transporter. That means a mileage that's in the tens, as the only time they will have moved under their own power will be when they're rolled on and off trucks.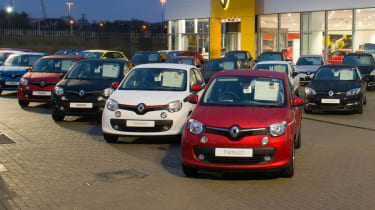 One word of advice we'd give, though, is to not go by the registration plate to determine how old a car is. If the model you are looking at is in the middle of a facelift, it will be worth checking the car's vehicle identification number (VIN) to confirm its date of manufacture. If it has a big discount on its price, it might be because it's a pre-update model, so could lack the latest kit that you're expecting.
Another type of nearly new car is the ex-demonstrator, or ex-demo, car. This will be a specific model that dealers keep on the books for potential buyers to test drive before buying. These models will usually be a well equipped pre-registered car taken out of the sales stock, although of course they will have been driven by many people and have gained a higher mileage as a result, although it'll still be well below 10,000 miles.
However, the dealer workshop is likely to keep a demonstrator in decent shape to help show the car in question in a good light. The main benefit of an ex-demo car is that it'll be nearly new and likely to feature plenty of options to show off to potential new car customers. But the higher mileage on the odometer means it'll be even better value than a pre-registered car of the same spec. We'd advise to take some extra time to inspect an ex-demonstrator for damage, and factor any marks into the price you're negotiating. 
Partnership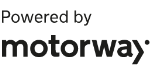 Need to sell your car?
Find your best offer from over 5,000+ dealers. It's that easy.
Nearly new cars are often pre-registered by a manufacturer or dealer to help boost sales numbers, and that means they will be in a spec that maximises their value and heightens their appeal when they are sold on. That means you will be looking at cars in popular colours and specifications, so if you have a specific need for a yellow SUV with red leather interior and 22-inch wheels, for example, then you'll probably be out of luck.
Neutral paint options such as silver, blue, black or white will be the order of the day, while kit such as parking sensors, sat-nav and heated seats are likely to be added to boost a car's appeal. If certain models can be made more attractive with the addition of option packs that bundle desirable kit together, then these are likely to be included, too. 
What does approved used mean? 
Nearly new cars are usually sold through a manufacturer's approved used sales scheme. This means that the used cars for sale have to meet a set of criteria to qualify for the scheme, but this often means that the cars themselves have a certifiable history and will come with at least 12 months of warranty cover and roadside assistance.
There are other incentives to help persuade buyers to buy nearly new. If a car is less than six-months old, then the approved used scheme will sometimes honour the full new-car warranty by starting the cover from the point of sale to you. And for cars that are older than that, some schemes offer MoT protection, so that when the car gets to its third birthday, the manufacturer will cover the cost of any repairs that may be needed in the unlikely event that the car fails its MoT. This will cover mechanical failures, but not consumables such as tyres or even windscreens - your best bet is to read the small print of any such offer.
Nearly new car warranty
One positive about buying a nearly new car is that it should have most of its new vehicle warranty left intact. New cars get at least three years of warranty cover, and if the nearly new car you're looking at is less than six-months old, then some manufacturers even offer to reset the warranty cover from the moment of purchase, giving you added peace of mind.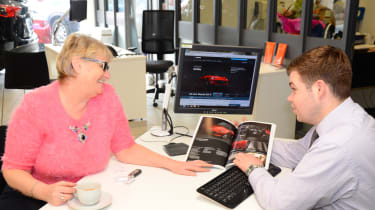 Most approved used schemes offer their own warranty cover, too. This will be for at least 12 months, while some will extend the warranty every 12 months if you continue to get your car serviced at a franchise dealer.
Nearly new car finance 
Because a nearly new car is as close as you can get to a brand-new car, many manufacturers offer the same kind of finance offers on them. That includes PCP finance, which also allows you to swap into a newer used car at the end of the finance deal.
The main benefit of taking out finance on an approved used car is that the monthly repayments will be less than they are for a brand-new car. That's because the nearly new one has already shed some of its value, and the monthly price you pay is dictated in part by the car's value at the end of the finance agreement.
As with new car finance, you will usually need to come up with some sort of deposit, there will be monthly repayments that you will need to be able to afford, and at the end of the deal there will either be a lump sum to pay, a new finance deal on another approved used car, or you can simply hand the vehicle back. As with new car finance, be aware that there will be terms and conditions to adhere to, including mileage limits and penalties for any damage to the vehicle. 
And just like new car finance, manufacturers offer incentives to get you behind the wheel, whether it's a deposit contribution, free services or even MoT guarantees.
Should you buy a nearly new car? 
With benefits such as the above available when buying a nearly new car, you're getting more than just a discount on a car's recommended retail price. You can buy with confidence, knowing that you've got some security to go with your purchase, and you'll be getting a nearly new car in the process.
Nobody needs to know that you aren't the first registered keeper - that only needs to come up when you come to sell on. And if you plan to hang on to your nearly new car until it's a genuine second-hand car, then that will matter even less.
How much is your car worth? Find out with our free car valuation tool...