New low-spec LEVC TX Icon taxi on the way
LEVC to build low-spec 'Icon' version of its TX electric taxi, while also announcing it's '100% committed' to staying in the UK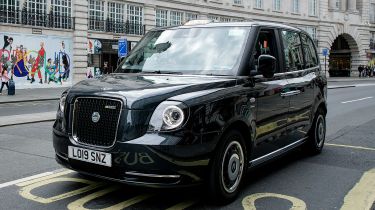 The London Electric Vehicle Company (LEVC) is planning to build a more affordable version of its TX electric taxi called the Icon. The TX Icon is set to enter production in September 2019 and will be a "low-specification" version of the existing taxi.
It has not been revealed which pieces of equipment will be missing, but the Icon will have a lower purchase price than the standard TX, which costs £55,599 to buy outright, although most examples are purchased on lease.
• 2,500th LEVC TX taxi rolls off production line
The Icon will be built alongside the TX and the upcoming LCV at LEVC's factory in Coventry, with LEVC's CEO Joerg Hofmann saying that firm is "100 per cent committed" to staying in the UK after Brexit.
"We don't have any discussions that we will shut down the plant in Coventry," said Hofmann. "This is the base of the company – we want to increase and expand the product portfolio, we have a plan to get more out of Coventry.
"We are a UK-based company, we are a UK brand which will expand into Europe, so I can't see any short-term developments there – the investment is too big and our plans are in a different direction."
While this may be seen as a vote of confidence in post-Brexit Britain, Hofmann also warned that a no deal Brexit is something LEVC wants to avoid, claiming that it would have a "significant impact" on the company.
"A no deal Brexit would certainly have a significant impact on our plans," Hofmann continued. "Maybe not meaning that we would shut down the factory, but it would immediately mean that we would have production shortage. After a while, we would have to stop production and, because we would not have enough parts anymore... I really believe there will be an impact on our product."
He added: "But we are not talking about shutting down Coventry – I firmly believe I can say as CEO that we are 100 per cent committed to make it work."
Want to know what the LEVC TX taxi is like? Click here to read our review...