New evo.co.uk website launched
The all-new digital home of evo has arrived, and it's now quicker, slicker and more user-friendly than before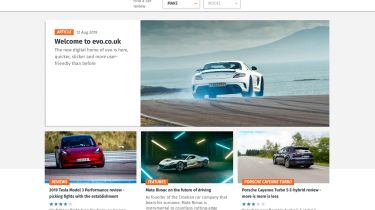 Our sister site evo has a new digital home. It's more than just a nip and tuck mid-life facelift – evo.co.uk has been through the full R&D process resulting in a more powerful, more efficient and quicker engine behind its sleek new look.
This latest generation of evo.co.uk has been designed around the reader. They've listened and analysed feedback and how readers interact with the site and the content they publish. The result is a site that's more engaging, interactive and intuitive to use, with news, reviews, features, galleries and video content easier to find and enjoy across mobile, tablet and desktop devices.
Page loading times have been improved, the size of images in the galleries have been increased and the search function has been overhauled to make it easier to find the content on the cars that matters. They've even reduced the number of adverts you'll see on the site.
So head over to evo.co.uk now to check it out. It's the place to go for the very best in performance car news, reviews, features and video content.