World's first parts-only warranty launches
MotorEasy and Haynes tie up to provide protection for owners who take care of their own car maintenance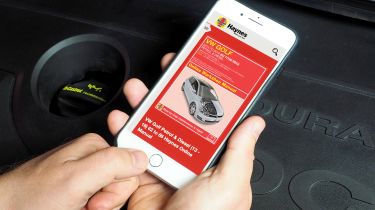 A new parts-only warranty, providing cover for owners who like to take care of their cars themselves, has launched. Because the warranty guarantees only parts, prices are likely to be lower than conventional warranties that pay out for both broken parts, and the labour required to fix them.
The scheme is a joint effort by warranty, breakdown cover and insurance provider MotorEasy, and workshop-manual publisher Haynes. Customers are provided with a free Haynes manual for their car, plus the parts needed to fix any faults that occur during the warranty period.
• Car warranty advice: manufacturer warranty cover and extended warranties explained
As part of the deal, Haynes also offers a library of how-to video tutorials for more than 2,000 maintenance tasks that are said to apply to 11 million cars currently on UK roads.
The policy also provides discounted access to MotorEasy's network of 10,000 garages in the event a repair proves to be beyond owners' level of technical skill.
The warranty begins with a free initial health check, after which problems relating to overheating, air conditioning, emissions, in-car entertainment and sat nav are covered, as well as failures identified during MoT and servicing or following a recovery.
Duncan McClure Fisher, founder of MotorEasy, commented: "MotorEasy helps replace the parts, while Haynes offers the insight into how to fit them - it's the perfect partnership for peace of mind.
"MotorEasy exists to make member's car ownership experience less stressful and more financially predictable. This is perfectly complemented by Haynes' reputation for providing the motorist with invaluable support for over 50 years, helping keep vehicles on the road without spending a fortune on repairs.
"Together we are able to provide an evolving solution that's perfect for encouraging basic car maintenance skills and offering experienced mechanics valuable support."
Jeremy Yates-Round, managing director of Haynes, added: "This collaboration revolutionises the way car enthusiasts can protect themselves against the spiralling cost of expensive repairs, and the support of MotorEasy and Haynes makes vehicle maintenance and repair a far less daunting prospect.
"Haynes workshops have stripped down and documented over 300 vehicle models to help hands-on motorists. A parts-only warranty is a great, cost-effective initiative that is an extension of Haynes' work, which we are delighted to support."
Do you think a parts-only warranty is a good idea? Let us know your thoughts in the comments below...