Colour change paint
Paint finish using 'paramagnetic' technology can change hue at the flick of switch.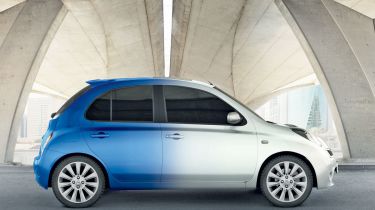 Here is the perfect solution for buyers who can't decide which colour car to choose: you can have them all! The hi-tech chameleon-inspired 'paramagnetic' paint (above) can change shade at the flick of a switch – and has the ability to reproduce any hue visible to the human eye.
Before the vehicle is painted, the metal body is covered with iron oxide particles. When an electric current is applied, the spacing between these tiny crystals is altered. This miniature movement affects the way the paramagnetic layer reflects light, causing the car to change colour instantly depending on the voltage applied.
When the current is switched off, the paint returns to a default shade of white. A special clear coating seals and protects the finish, and tests have shown that the consistency of shade is excellent, despite the curves and sharp creases on modern bodystyles.
The technology could be offered to the public as early as 2010, and one maker considering it is Nissan. The firm has already developed the 'self-healing' Scratch Guard Coat, which sees synthetic resin flow into scratches when warmed, removing the marks completely.