Top ten worst roadworks in the UK revealed
There are more roadworks in the UK in 2014 than at any time in the past decade. These are the ten most disruptive roadworks for motorists.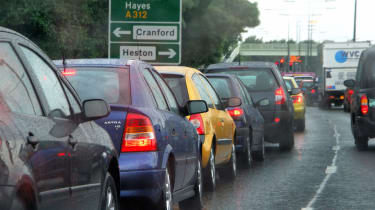 More roadworks are currently being carried out across the UK than at any time in the last decade. A study by Inrix, a leading provider of real-time traffic information, suggests motorists have never had it so bad for jams and traffic problems caused by road maintenance.
The roadworks are being carried out for a wide range of reasons including motorway-widening plans, road layout changes, and, in particular, resurfacing work.
After research provided by Britannia Rescue last year showed that there is one pothole for every mile in Britain, it seems clear that councils have been working hard to rectify this but increased delays caused by the necessary roadworks are the knock-on effect.
Many suggest that the big increase in resurfacing and repairs is a result of the upcoming 2015 General Election, as the Government looks to make it clear that they are improving the roads.
The downside to this is the issue of traffic: Jams appear to be worse than ever thanks to roads being blocked and motorway lanes being closed.
Below are the top ten roadworks that have been causing the most travel disruption for motorists in 2014.
Top 10 worst roadworks 2014
1: Coventry: A45-A46 Tollbar Island
2: Worcestershire: M5 Junction 4 Lydiate Ash
3: Derby/Nottinghamshire: M1 between J29 Alfreton and J31 Worksop
4: Derby: Markeaton Island
5: Northamptonshire: A14 between J7 and J9 Kettering
6: Cardiff: A4232 and M4 J33
7: Essex: M25 between J27 M11 and J25 Enfield
8: Shropshire/Shrewsbury: A5 Preston Island and Emstrey Island
9: Blaenau Gwent: Tredegar A465 (Heads of the Valleys Road)
10: Nottingham: A453 between M1 J24 and Clifton
Have you had the misfortune of being trapped in traffic at these roadworks? Do they form part of your daily commute? Let us know how bad they really are in the comments below...