"Merc, BMW and Audi have had their glory. Maybe, with the XE, it's Jag's turn"
With the arrival of the brand new XE, Jaguar is threatening to play the Germans at their own game, says Mike Rutherford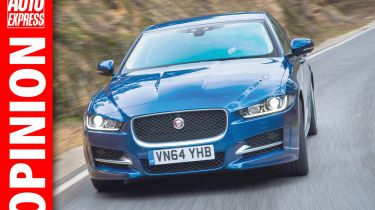 Around the time this magazine was launched, little ol' Audi was not much more than a struggling bit player. Sure, we knew and liked the name and badge, but the Ingolstadt company was second division. Rivals from Munich and Stuttgart were the premier league.
Three decades on, Audi is the reigning World Car of the Year champion, and in the UK at least, outsells BMW, Mercedes and all other premium car brands.
Now Jaguar – another manufacturer with a badge we love – is threatening to play the Germans at their own game.
It's a historic moment, says Jag, which is arming itself with a "breakthrough" premium product. The official (and accurate) warning is that the XE features saloon car practicality with sports car character, benchmark handling, plus a confidence-inspiring driving experience. It's a proper premium car – from £27,000. You could pay more for a Ford Mondeo or Vauxhall Insignia!
Jaguar's message to XE customers is that premium products have never been more in demand, affordable or accessible. It believes there's room for another player. And the promise is that Jag dealers, who already perform well in our Driver Power surveys, are set to do even better when their showrooms and workshops expand to cope with the arrival of – and high expected demand for – the XE.
If the German 'big three' aren't afraid of the revitalised Jaguar and its new baby, they should be. After driving pre-production versions of the XE last week, it became apparent to me that it's a more than credible contender in the affordable premium sector.
Forget the photos – it has to be seen on the road before its Jaguar design DNA reveals itself. Also, ignore the hype and test drive it yourself for proof that it's as good as, if not better than, its German rivals.
If showroom versions of the XE get classier, better finished interiors to those in the pre-production examples I drove, the quintessentially English car could go straight to the top of its class.
Audi rocked the premium car establishment in recent decades. Jaguar is perfectly positioned to do something similar in the months and years ahead. Merc, BMW and Audi have all had their moments of premium car glory. Maybe – just maybe – it's Jaguar's turn now.
Do you think the new Jaguar XE has what it takes to topple its German rivals? Let us know in the comments below...