Trust My Garage scheme launched with £1,000 guarantee
The Independent Garage Association will cover bills up to £1,000 as its Trust My Garage scheme aims to protect against dodgy garages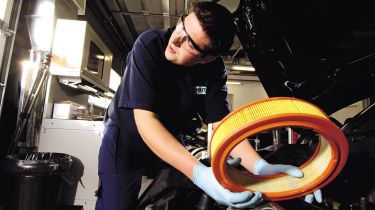 Motorists will be protected from disputes with independent garages over unsatisfactory work, thanks to a new £1,000 industry guarantee.
The Independent Garage Association (IGA) has pledged to cover bills of up to £1,000 from non-franchised garages who have signed up to its Trust My Garage programme.
The scheme, due to come into force later in 2016, will reimburse customers if the work is found to be sub-standard and the garage refuses to pay back the money.
• Women charged 13% less for car repairs than men
If a consumer has a dispute with a garage, they can contact the Alternative Dispute Resolution (ADR) service to formalise the complaint, with the National Conciliation Service handling the enquiries.
If the ADR awards in favour of the consumer, then the garage is obliged to pay. In the event of the garage not paying, the Independent Garage Association will cover the cost up to £1,000.
Stuart James, director of the IGA, told Auto Express: "To bolster support of independents, we're introducing a £1,000 guarantee for any garage signed up to the Trust My Garage scheme. We have that much confidence in them that we'll back them up financially."
There are currently around 2,700 firms registered to Trust My Garage, which is a code of practice approved by Trading Standards. The IGA previously offered an identical £1,000 guarantee on work carried out by approved garages, but ditched it when it applied for the Government-backed code.
• How to check your car mileage and MoT history online
"We withdrew it four years ago because we submitted the application [for the code] to the Chartered Trading Standards Institute," explained James. "It kept the application more straightforward, but now is the right time to reintroduce it."
Motorists can find their nearest approved independent garage by visiting trustmygarage.co.uk and entering their postcode. Owners who have disputes with a Trust My Garage business can contact the National Conciliation Service at nationalconciliationservice.co.uk.
Have you ever had issues with independent garages? Let us know below...