'Why doesn't the Government issue guidance on the cars that it recommends?'
Mike Rutherford questions why the Government is so vague on the future of diesel cars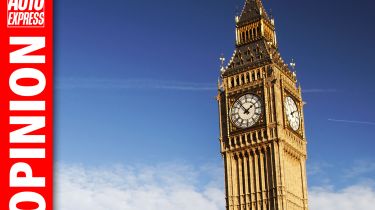 It's official. You, dear private motorist, have been warned by Transport Minister Chris Grayling to think "long and hard" about the type of car you opt for. Yet again it is relatively clean, green, low-mileage, state-of-the-art cars – plus their drivers – that are in the firing line. 
Knackered dirty diesel buses, coaches, taxis, trains, lorries and agricultural vehicles are barely acknowledged as the gross polluters they are. Nobody's denying there are issues with emissions from some diesel cars, but too many politicians and others conveniently forget other heavy-duty diesel vehicles (plus boats, ships, planes etc) cause far greater pollution nightmares.
Grayling infers his Government will help kill off diesel personal mobility machines. Yet there's absolutely no instruction you should stop driving the one you've got. And they have no objections to you spending, say, £40,000 on a new diesel family car tomorrow, as this would earn their Treasury an additional £8,000 in VAT receipts, plus thousands more in other taxes/duties/levies.
At the same time, the same Government is not advising you to buy a petrol or petrol-electric vehicle. Or one that runs on LPG. There's a bit of encouragement to buy 100 per cent electric cars which tend to be even more VAT-lucrative than petrols or diesels for the Treasury. But, again, there's no solid advice from the politicians that 100 per cent EVs are your best bet. 
Government is brave enough to say buying a house is usually wiser than renting one; that gas is a preferable and more affordable central heating source than electric or coal; that certain countries are safe to visit while others aren't. So if it can offer clear guidance on these and other important topics, why not issue equally straightforward guidance to motorists about the cars it recommends, not forces, us to run?
• The best electric cars on sale
If it intends to wage war on diesels (via financial penalties, premature scrappage etc.), say so. On the other hand, if our leaders want a near-future switch to 100 per cent EVs (with greater incentives to buy and run), tell us. But for what it's worth, I don't think diesel cars can or will die. Or that pure-electrics will take over. They'll both be on our roads for many years. More importantly, in between those two extremes sit increasingly attractive, efficient petrol-electrics – and the sooner the Government accepts these are the cars of the short-to-medium-term future, the better.
Do you think the Government should offer more advice on which cars to buy? Let us know in the comments section below...