Dogs cause more pollution than cars
Dogs have a bigger carbon footprint than cars, according to scientists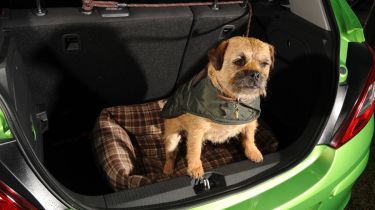 Cars and dogs are man's two best friends, and it seems obvious which is going to have the bigger carbon footprint. But according to research scientists in New Zealand, you're barking up the wrong tree.
Robert and Brenda Vale specialise in sustainable living at Victoria University of Wellington. In their book Time to Eat the Dog, they compare the eco-friendliness of family pets with other elements of everyday life – one of which is driving.
To find an eco rating for the average dog, they worked out what it ate and how much land it took to generate that food. A medium-sized dog consumes 90g of meat and 156g of cereal in every 300g portion of dried dog food. That takes 0.84 hectares to generate annually.
Meanwhile, the Vales' gas-guzzling 4.6-litre Toyota Land Cruiser does around 6,000 miles a year. They calculated it used 55.1 gigajoules of energy annually over its lifetime, which includes what's needed to build the car and run it. The SUV's eco footprint is about 0.41 hectares – less than half that of the dog.
"We're not saying that we think SUVs are a good idea, but we did find it interesting how they have been vilified for their damage to the environment, while pets have been completely ignored," explained Robert.
And cats aren't much better, either. Taking the estimated feline population for the top 
10 cat-owning countries, he calculated the land needed to feed them every year was bigger than New Zealand. His research found that an individual cat has an 
eco footprint comparable to a Volkswagen Golf.