Watchdog: Shock cost of built-in sat-nav updates
Keeping your sat-nav up-to-date could cost £100s every year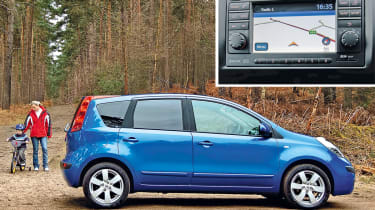 Opting for built-in satellite navigation in a new car can be a costly affair, with makers charging as much as £2,100 for a factory-fit system. And you don't stop paying there, either: with new roads constantly being built, the sat-nav in your car could soon need updating.
This is what happened to Richard Dixon, of Macclesfield, Cheshire. He took his wife's Nissan Note for its first service and was offered a sat-nav update by the garage. What he wasn't told is that it would cost £125. Richard fumed: "I might have accepted a nominal charge, but at no time during the two visits we made when we bought the car was reference made to anything like this."
He also claimed that there was no mention of a charge in the car's handbook, which states: "New map SD cards are available from Nissan dealers and are updated once per year." When we questioned Nissan about this, a spokesman told us that he had no idea about the charge.
After investigating further, he got back to us, saying: "We don't make any money on that charge as we have to pay so much for the licence down the line to various people. We would like them to be much cheaper."
Eventually, Richard managed to get the update free of charge. "I kicked up enough of a fuss that in the end I was given the card for nothing," he explained. Richard also claimed that the dealership concerned now has large signs around its showroom explaining the update costs.
Our table reveals just how much it will cost you for updates on built-in sat-navs from various manufacturers. Vauxhall will charge between £99 and £179 depending on the model and level of system you have in your car. Volvo offers two years of updates for free, but then charges owners a huge £230 in the third year, while the minimum price for an update in an Audi is £185.
How much the car makers charge
| | |
| --- | --- |
| Manufacturer | Cost |
| Audi | £185/£200 (for SD/HD systems) inc VAT |
| BMW | £149.17 (for 5 Series; prices vary) ex VAT |
| Citroen | £139 inc VAT |
| Ford | £126 inc VAT |
| Honda | £175 inc VAT |
| Hyundai | £149 (from Navteq) inc VAT |
| Mazda | £74.95 (updates from TomTom) inc VAT |
| Peugeot | £141.56 (for R-Neg system) ex VAT |
| SEAT | £55-£169 (depending on model) inc VAT |
| Skoda | £192 inc VAT |
| Toyota | £109 (Touch and Go system) inc VAT |
| Vauxhall | £99-£179 (dep on system) inc VAT |
| Volkswagen | £125-£165 (dep. on system) inc VAT |
| Volvo | Free, then £230 (in third year) inc VAT |