More drivers running illegal tyres
Figures show that motorists are waiting longer before replacing worn tyres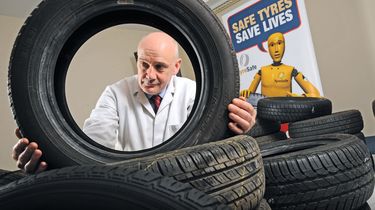 Data from the UK's largest tyre fitting centre has revealed that more drivers are waiting until their tyres are illegal before replacing them.
Between March 2012 and 2013, 57 per cent of the 39,676 tyres removed by Micheldever Tyre Services had less than 1.6mm of tread. That means the firm's 59 depots removed 21,719 illegal tyres. In 2008, that figure was only 15 per cent, which suggests that the recession has caused motorists to wait longer before fitting new tyres.
Micheldever's Wholesale Director, Alan Baldwin, said: "This has to be a direct result of the current economic climate, with consumers delaying tyre purchases wherever possible.  Sadly, UK motorists tend not to place the same importance on tyres as drivers in Germany".
The Road Vehicles (Construction and Use) Regulations 1986 act says that a tyre must have a minimum of 1.6mm in a continuous band throughout the central three-quarters of the tread width. The penalty for breaking this law is a fine of up to £2,500 and three penalty points per illegal tyre – so you could face a £10,000 bill and 12 points if all four tyres are illegal.
Worse still, a tyre's braking performance significantly drops when there's less than 3mm remaining, so it's risky, too. An Auto Express test in 2009 found that a car with barely legal tyres took 30-44 metres longer to stop from 70mph than when running tyres with 3mm deep tread – that's nearly four-car lengths.
Worryingly, just three per cent of tyres removed by Micheldever in the last year had more than 2mm tread remaining. "The increasing number of drivers running illegal tread depths is terrifying," said Baldwin, "Sadly the figures speak for themselves. In 2011 the number of deaths from tyre related accidents doubled against those in 2010."
Have you been running your tyres for longer to save money? When was the last time you checked your tread depth? Let us know in the comments below.