Parking on the pavement should be banned, says Guide Dogs charity
The charity Guide Dogs has called for a ban on motorists parking on the pavement in the UK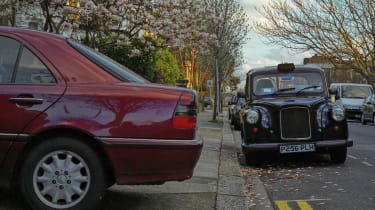 The charity, Guide Dogs, is calling for a nationwide ban on pavement parking to help protect the safety of blind and partially sighted pedestrians.
According to a recent YouGov poll, 54 per cent of respondents admitted to leaving their car on the pavement, with 17 per cent doing so at least once a week. This can make it difficult for wheelchair bound, blind and partially sighted people, as well as those pushing prams, to get around the streets safely.
• Police stop over 5,000 drivers for logging and tailgating
Throughout the majority of Greater London, parking on pavements is already banned, but exceptions are made in designated loading/unloading areas, plus specific areas where the motorist can fit either their whole vehicle or two wheels on the pavement. The Guide Dogs charity wants the ban extended across the country.
A poll conducted in 2013 by the charity revealed that 90 per cent of people - both partially and fully sighted - found pavement parking to be a significant concern in their local area.
• Minimum parking bay size to be axed by councils as cars get too big
Guide Dogs pointed out that the main risk facing many blind and partially sighted people is that of colliding with cars on the pavements. It also added that many pedestrains are also forced to walk in the road - putting themselves in even greater danger.
Should these regulations be implemented, it would bring a nationwide blanket ban on pavement parking and bring the law in line with the current regulations found in Greater London.
Is a ban on parking on the pavement a good idea? Tell us in the comments section below...