UK to get 900 lane miles of extra motorway and 'A' road by 2021
New infographic shows where £24 billion investment will be used with 900 lane miles to be added to highway network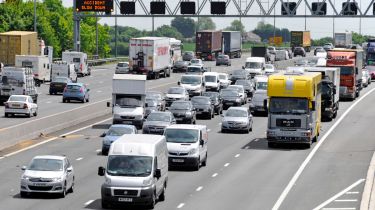 An extra 900 miles of road capacity will be added to England's highway network over the next seven years - a third more than the previous decade.
The Department for Transport (DfT) previously announced £24 billion was being invested into motorways and A roads until 2021. That's triple its current budget and the largest single investment since the 1970s. More than 3,000 miles will also be resurfaced with the money.
• Are car brands illegally giving better deals to business users?
The DfT has produced a new infographic detailing the split of the investment across the country and which projects will be targeted for improvements during this Parliament as well as future schemes.
The east of the country will see the biggest investment of £1.54 billion with six schemes - including two on the M25 - making the list. The south east will get £1.41 billion for work on the M25, M3 and A3 near the busy Hindhead tunnel. The M1 will also benefit too as different junctions are included in the £1.07 billion and £1.1 billion investments in the Midlands and the Yorkshire and North East areas, respectively.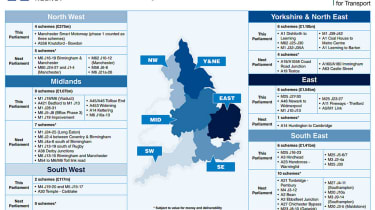 The money sees a huge spurt in road construction after just 574 lane miles were built between 2001 and 2010. The 60 new road schemes that the Government has committed too will provide 962 miles by 2021 - although all projects are subject to "value for money" and "deliverability".
Over the last 12 months, 60 miles of lane miles were built and the Government said by 2021, the total built will be a third more than was provided in the previous decade.
• New tech developed to stop phone use at the wheel
Roads Minister John Hayes said: "As a crucial part of our long-term economic plan to secure a brighter future for Britain, we are fixing problems that have been created by governments of the past by delivering around 35% more capacity on our roads than was delivered in the 9 years up to 2010. It is because of the difficult decisions that this government has taken that we are able to triple investment in our major roads to over £3 billion a year up to 2021.
"We're doing this with great care for our environment. This extra capacity will be achieved mainly by the use of smart motorways and selective widening to minimise the environmental impact."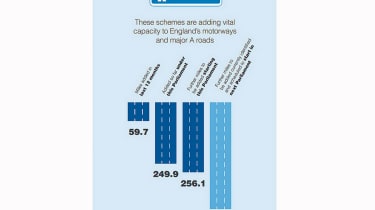 Is 900 extra lane miles by 2021 enough to keep the UK's transport network moving? Could the money be better spent elsewhere? Let us know what you think in the comments section below. See the full size versions of the DfT infographics here.