Thousands of UK motorists removing diesel particulate filters
DVSA figures reveal 1,800 diesel drivers have been caught without a DPF since 2014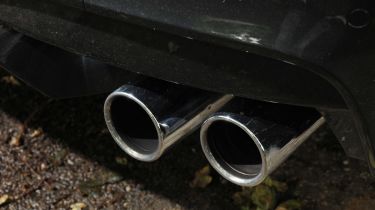 Thousands of drivers have been caught driving without their diesel particulate filter, new figures reveal. The Driver and Vehicle Standards Agency has caught 1,800 drivers since 2014 driving with the pollution-reducing filter removed from their car.
While it's not illegal to remove a car's DPF, it is illegal to drive without it if one should be fitted. It's believed some drivers whose DPFs become blocked are simply bypassing the filters by removing them rather than paying for a replacement, which typically costs around £1,000. In doing so, car drivers are risking a £1,000 fine, while the penalty for driving a van without a DPF stands at £2,500.
Diesel particulate filters trap microscopic emissions produced by diesel engines that would otherwise be expelled into the environment. They require regular 'regeneration', however, which involves burning the captured particles off. This process can only occur at high temperatures, typically reached when a vehicle is driven at relatively high speed. Diesel drivers who predominantly drive in urban areas can therefore be faced with blocked DPFs, as their vehicles don't regularly reach the conditions necessary for regeneration to occur.
• UK Child booster seat and baby car seat laws explained
The process for removing a DPF is a relatively simple one that requires cutting a hole in a vehicle's exhaust, removing the filter and welding the resultant hole shut. Although MoT tests require diesel cars to have a DPF, this is checked via a visual inspection rather than emissions analysis. Removing the filter doesn't affect the car's performance, and some motorists even state they achieve better fuel economy and engine performance without one.
Nick Molden, chief executive of Emissions Analytics, told the BBC: "The MoT test is clearly not fit for purpose in checking if a DPF has been removed", while Frank Kelly, professor of environmental health at Kings College, London, explained that "a car with a DPF removed has a particulate count 20 times higher than one with it." Since 2000, diesel particulate filters have reduced particle matter emissions by 90 per cent.
• Dutch move to ban diesel and petrol cars by 2025
The news follows previous reports that found numerous websites and online services offer DPF removal services
Services advertised on sites like Google, eBay and Gumtree offer to remove the filter for a fee. The garages offering this service are able to exploit the legal loophole that means driving a diesel car with its DPF removed is illegal, but the act of removing the filter is not.
Online retailers state the advertisements will not be banned because the act of removing a diesel particulate filter is not illegal. Were the laws to change, however, the sites admitted the advertisements would be removed.
Poor air quality is associated with 40,000 premature deaths in the UK every year, and campaign group Friends of the Earth (FoE) recently wrote to the Advertising Standards Authority to ban advertisements for services offering filter removal. The Group is also calling on the Government to tackle the practice head on.
Friends of the Earth air pollution campaigner, Oliver Hayes, said: "Air pollution is a public health crisis of breath-taking proportions. The dodgy practice of removing pollution filters from cars is not only risking people's health, but also putting drivers at risk of prosecution for the simple fact that it's illegal to drive a car with its DPF removed.
• How to scrap your car, and what prices to expect
"We're asking the ASA to clamp down on those advertising these dubious practices and help prevent more deadly pollution hitting our children's lungs. But we're also calling on the Government to make it illegal to remove these pollution filters in the first place. Unless they do, the absurd loophole remains whereby unscrupulous garages can remove a pollution filter but it's only the driver, once they've turned the engine on, who is breaking the law.
What do you think about the practice of removing DPF filters from cars? Let us know in the comments section...