Best Luxury Car
Mercedes S-Class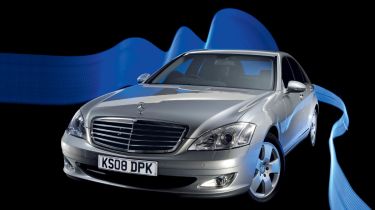 BEST LUXURY CAR: Mercedes S-Class
Total domination of the luxury car sector. That's what the latest Mercedes flagship has achieved. It competes in the toughest class of the market, yet manages to better every rival.
The wide price range means the S-Class is up against everything from a Lexus LS to a Bentley Flying Spur – and it beats them all. During development, test drivers were hooked up to heart rate monitors. And as the car is so good at isolating the person at the wheel from the surroundings, pulses actually dropped!
Inside, it's easy to see why. Mercedes' usual dash design is replaced by something that blends the best of the BMW 7-Series and Audi A8. And with features ranging from night vision to collision avoidance systems, the S-Class is a technological masterpiece.
To many there simply isn't a better limo. It's beautifully engineered inside and out, and is as good to drive as it is to be driven in. The saloon's agility will have you questioning the five-metre-plus length, while even the entry-level petrol and diesel cars perform strongly. This is the ultimate in luxury motoring.
Commended: Audi A8
Shortlist: Mercedes S-Class Audi A8 BMW 7-Series Lecus LS600h Bentley Flying Spur Range Rover