Lexus LS review
The Lexus LS is a hi-tech and luxurious rival to the popular Mercedes S-Class and BMW 7 Series
Few premium brands can boast as much hi-tech hybrid heritage as Lexus. The brand launched its first petrol-electric model in 2005, and the flagship LS was the first limousine to get this innovative powerplant. A recent facelift has kept the vast four-door looking fresh, while range-topping Premier models come loaded with standard equipment.
The luxuriously refined Lexus LS is available in two wheelbases and two engine options – the 4.6-litre V8 LS 460, or the LS 600h, a 5.0-litre V8 mated to an electric motor and batteries. The hybrid can run on electric power alone, although more often than not the electric motor assists the engine, and power goes to all four wheels via a CVT automatic gearbox.
The LS 460 is rear-wheel drive and uses a conventional eight-speed automatic gearbox. Motorway cruising is excellent, as the interior is whisper quiet, and the air-suspension absorbs every bump in the road. In town, again the Lexus is extremely quiet, although more bumps can be felt in the cabin.
The interior is hugely comfortable, though, with lots of room for two in the back in the electric massage seats, plus a rear entertainment system to keep passengers occupied. But diesel-powered rivals offer better economy, and the interior lacks the effortless class of its peers from Mercedes, Jaguar and Audi.
Engines, performance and drive
The Lexus LS is in its element when at motorway speeds, soaking up any bumps with complete isolation. It's a wonderfully smooth machine. However, it's less accomplished in town, struggling to cope with smaller potholes and imperfections. This has been improved somewhat by the updated Adaptive Variable Suspension system, though. Further negatives include the grabby brakes and lifeless steering.
More reviews for LS Saloon
The entry-level LS 460 model - expected to make up 80 per cent of all UK sales - is powered by a 382bhp 4.6-litre V8 petrol engine, while the flagship LS 600h is powered by a 439bhp 5.0-litre V8 petrol-electric hybrid powertrain.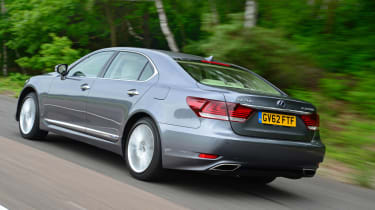 Acceleration is impressively rapid in both models, with 0-62mph taking 6.1 seconds in the hybrid and 5.7 seconds in the 460, yet the LS is very quiet even when you're using all of its power. However the suspension rolls and pitches heavily under loads which can feel quite unpleasant.
There are no complaints about the 5.0-litre V8's impressive smoothness and refinement. Not only will it travel in near-silent EV mode, you can access strong performance from the electric motor before the LS's internal combustion engine kicks in discreetly, with just a distant burble.
Unfortunately, the rest of the driving experience isn't up to the standard of the Mercedes S-Class. The air-suspension allows the Lexus to waft serenely over bumps, and there's plenty of grip in corners, but it's let down by lifeless steering. Selecting Sport mode stiffens the adaptive dampers and transforms the hybrid power mode dial to a rev counter, but it's not enough to disguise the car's bulky dimensions on a twisting back road.
Also, the sharp brake pedal action makes it difficult to stop smoothly – a major flaw in a luxury limousine. And while the LS's V8 is smooth, there's still wind and road noise.
The eight-speed automatic in the LS 460 is very impressive, but the CVT transmission in the hybrid model gives the driver little control over engine speed and quickly becomes flustered when rushed.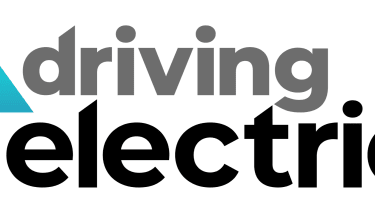 MPG, CO2 and Running Costs
A list price of £70,000 to £100,000 shows where the Lexus LS is aimed. It rivals the Mercedes S-Class and Jaguar XJ, but it comes with tons of kit as standard - in fact, there are no options to choose from except a special night vision camera. But where the Lexus falls down is in its fuel economy. The LS 460L has a claimed fuel consumption figure of just 26.4mpg and emits a hefty 249g/km of CO2.
Despite being a hybrid, the LS 600h's fuel economy isn't great and it's no longer the only petrol-electric car in this class, either. BMW now offers its ActiveHybrid 7, which is about £30,000 cheaper in long-wheelbase form, half a second faster to 60mph and more efficient, too.
The Lexus returns 32.8mpg and emitting 199g/km to the ActiveHybrid 7's 41.5mpg and 158g/km. There's unlikely ever to be a diesel version of the LS, despite strong demand for this type of engine in the UK and Europe.
Interior, design and technology
You'd struggle to call the LS distinctive, but the large exterior dimensions mean you're unlikely to miss it. Styling tweaks late last year added Lexus' trademark 'spindle' front grille and eye-catching 'tick' LED daytime running lights, while the large tail-lamps were given a slimmed-down look.Elsewhere, the LS remains largely unchanged, so it looks a little bland when parked alongside the sleeker Mercedes, but it's extremely well built, with tight panel gaps and a glossy finish.
Matters improve inside, where you'll find a neat design and beautiful finish. It doesn't look as modern as the rival Mercedes S-Class' interior, but you do benefit from crystal clear dials and an uncluttered layout. The dashboard is dominated by a huge 12.3-inch colour screen, which is controlled by the fiddly Remote Touch joystick, mounted on the centre console ahead of the rotary control for the engine's various hybrid modes.
Like the exterior, quality is top notch, with plenty of upmarket materials and rock-solid construction. Yet while soft leather and real wood are used throughout, they look and feel a little synthetic.
There's plenty of kit, though. Highlights include four-zone climate control, a Blu-ray entertainment system and reclining rear seat that features an integrated Ottoman-style footrest and a Shiatsu massage function.
Practicality, comfort and boot space
Despite their vast dimensions, luxury limousines are rarely purchased as family runarounds. So it's no surprise to find the Lexus has a relatively modest 420-litre boot, while the location of the hybrid's batteries behind the rear bench means you can't fold the rear seats flat.
The long wheebase LS600h is the most luxurious and boasts a reclining rear seat that features a massage function and an integrated Ottoman style footrest.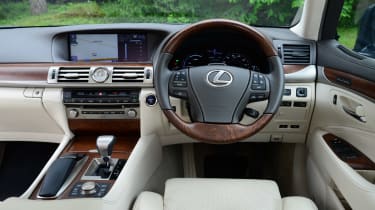 Passengers are still treated to acres of cabin space and even with a tall driver behind the wheel, there's loads of room in the rear. Plus, the reclining back seat takes the strain out of any journey. Further comforts include the quiet four-zone climate control and powered blinds.
Lexus and its parent company Toyota have nearly two decades of hybrid experience, so the LS' hi-tech drivetrain should be trouble-free. Even so, to add extra peace of mind, the petrol-electric components are covered by a separate five-year warranty – while the rest of the car is subject to a standard three-year guarantee. Plus, if you do have a problem, Lexus' dealers have consistently topped our Driver Power surveys.
The LS also scores strongly for safety, thanks to its impressive tally of 11 airbags and comprehensive driver aids. For instance, lane keep assist and blind spot monitoring are all included as standard.
Which Is Best
Cheapest
Name

500h 3.5 [359] 4dr CVT Auto 2WD

Gearbox type

Semi-auto

Price

£75,259
Most Economical
Name

500h 3.5 [359] 4dr CVT Auto 2WD

Gearbox type

Semi-auto

Price

£75,259
Fastest
Name

500h 3.5 [359] 4dr CVT Auto 2WD

Gearbox type

Semi-auto

Price

£75,259