Nissan Qashqai review
The Nissan Qashqai moves forward in a few key areas, but ultimately can't compete with the best in the crossover class
Find your Nissan Qashqai
Offers from our trusted partners on this car and its predecessors...
Or are you looking to sell your car?
Advertisement
Now in its third generation, the Nissan Qashqai improves over its predecessor, with more interior space, better on-board tech, and some well-thought-out, practical touches that give the Japanese manufacturer's mid-size family SUV enough of a lift to remain relevant in an increasingly competitive market.
The trouble is that the Qashqai's close rivals are more proficient than ever before, meaning buyers will have even greater choice where they wish to place their money. Nissan's evolutionary take on its best-selling Qashqai recipe feels like a missed opportunity, so while it remains a solid proposition, it isn't a class leader.
Our pick: Nissan Qashqai e-Power N-Connecta
About the Nissan Qashqai
Nissan hit gold with the introduction of the Qashqai back in 2007. The Japanese manufacturer's decision to move away from the traditional fare of the Almera hatchback and Primera saloon struck a chord with families seeking stylish 4x4 looks, plenty of space and low running costs, and the winning crossover formula has now seen over 600,000 Qashqais registered for UK roads and millions more sold worldwide.
The second-generation Qashqai, launched in 2014, didn't need to do much more than finesse the original car's evident qualities and sit back and take the plaudits. However, the pace of change, particularly over the past ten years or so, has been nothing short of exponential, with manufacturers keen to cash in on the crossover craze.
Some of our favourites include the impressive Hyundai Tucson (our Mid-size SUV of the Year for 2022), the revitalised third-gen Ford Kuga and the stylish Peugeot 3008, although the VW Group offers a capable trio in the shape of the SEAT Ateca, Skoda Karoq, and Volkswagen Tiguan. 
Further Japanese competition comes from the Honda CR-V, Mazda CX-5, and Toyota C-HR, while the exhaustive list of rivals continues with the accomplished Kia Sportage, along with the Renault Arkana and Vauxhall Grandland. So, the latest Qashqai certainly has its work cut out to convince a new cohort of buyers that it still has what it takes to fit seamlessly into family life. 
The Qashqai was initially launched in 2021 with a single 1.3-litre, 12V mild-hybrid petrol unit in 138bhp or 156bhp form. Both versions are still available and come with a choice of a six-speed manual or CVT auto transmission, while four-wheel drive is available with the higher-powered engine and automatic gearbox.
But in mid-2022, Nissan introduced the Qashqai e-Power. Nissan calls it "an EV unplugged", with the front driven by an electric motor and the 1.5-litre petrol engine under the bonnet used to charge the small 2.1kWh battery that feds the e-motor.
A wide range of trim levels are available, starting with the entry Visia spec (not offered with the e-Power versions) and moving through Acenta Premium, N-Connecta, Tekna and top-of-the-range Teckna+. 
Nissan has already seen fit to make some revisions to the Qashqai range, possibly reflecting the need to remain competitive with many talented mid-size family SUV rivals. Along with minor exterior cosmetic changes, levels of standard equipment have been improved, with a 12.3-inch infotainment screen now available on N-Connecta trim and above. Android Auto and Apple CarPlay are standard on all but the most basic models, too.
The price for entry into Qashqai ownership has climbed to just over £27,000, topping out to just over £42,000 for a Tekna+ car. However, Nissan offers appealing finance deals that might help persuade buyers away from other members of the crossover pack.
Used and nearly new
You won't find the popular Nissan Qashqai in short supply on the used market. Since it first arrived in the UK in 2007, the Japanese mid-size SUV has positioned itself as the 'go-to' option for families needing a practical car that's good to drive. The Qashqai may have developed a somewhat anonymous image over time, but it was quite revolutionary when launched – offering buyers a funky new crossover style.
Nissan Qashqai history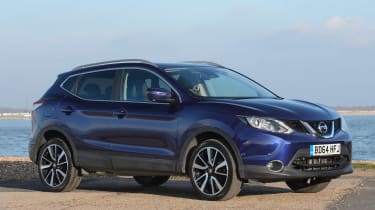 Nissan Qashqai Mk2: 2014-2020
The Mk2 Nissan Qashqai range offers reasonably efficient engines and decent levels of kit, although the base cars can are sparse. There has been mixed feedback regarding the Qashqai's overall reliability, so check over the car's history and ensure any recall notices have been attended to. Both front- and four-wheel-drive models are available, along with manual and CVT auto versions, so buyers should be well catered for. Read our full Mk2 Nissan Qashqai buyer's guide here…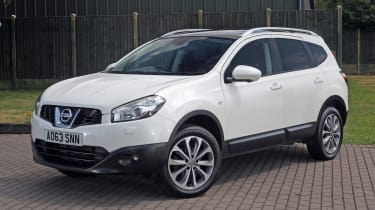 Nissan Qashqai Mk1: 2007-2013
The Mk1 Nissan Qashqai still provides great family transport. Its crossover-style good looks and useful practicality mean it will still appeal to buyers seeking a capable SUV. Of course, time has marched on, but the first-generation Qashqai is becoming more affordable, and its low running costs will suit those on a budget. Look out for the reasonable mid-spec Acenta models, which include parking sensors and climate control, while if you're after a little more luxury, then the top-spec Tekna versions, boasting leather upholstery heated seats and a panoramic glass roof, could hit the spot. Read our full Mk1 Nissan Qashqai buyer's guide here…
Engines, performance and drive
Nissan has added some dynamic polish to the Qashqai, but performance remains average at best
​One particular complaint thrown at the second-generation Qashqai was that it didn't offer much in the way of driving enjoyment. Nissan has responded by engineering in a host of dynamic tweaks for the latest model: a 60kg weight saving has been made possible with extended use of aluminium and composite materials, while the car's structure is 48 per cent stiffer than before, helping to give a more agile feel through B-road bends. The steering has also been modified, with the electric assistance motor moving closer to the rack to reduce friction and provide a more natural feel.
Partnership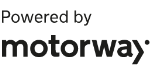 Need to sell your car?
Find your best offer from over 5,000+ dealers. It's that easy.
Most cars in the Qashqai lineup use a torsion-beam rear suspension layout, although a more up-to-date multi-link set-up is available for top-spec models equipped with 20-inch alloy wheels or four-wheel drive. The standard set-up we've tried fidgets a little over smaller bumps, and isn't helped in our opinion by the large alloy wheels fitted to higher-spec models – even if the bigger rims do offer better body control when travelling at speed. 
When we pitted the Qashqai against the Skoda Karoq Vauxhall Grandland, we found the Nissan was better at dealing with bumps and potholes than the Vauxhall and has more responsive steering than the Skoda, plus the driving position provides plenty of visibility. Overall, the Qashqai's comfortable, easygoing nature makes it a relatively relaxing car to drive.
The regular 1.3-litre mild-hybrid version we've driven uses a small electric motor to boost efficiency. It cannot drive the wheels under electric power alone like other hybrid set-ups. The e-motor is fed by a lithium-ion battery, which stores energy recovered under braking
As of mid-2022, buyers can now opt for models fitted with Nissan's clever e-Power tech. The innovative system employs a 1.5-litre petrol engine, acting solely as a generator to charge the car's lithium-ion battery, which then powers the electric motor to drive the wheels.
The e-Power model feels a bit like an all-electric car to drive; smooth off the line with step-free acceleration from low speed and decent performance. Helping in this regard is the 'I-Pedal' feature, which increases the energy regeneration when you lift off the throttle. It's not a true 'one-pedal' mode like you get in the fully electric Nissan Ariya or Leaf, but it will slow the car to a crawl, and it's predictable enough to make it an easy system to get used to.
​Either way, we'd describe the Qashqai as being rather unremarkable to drive. The steering has a nice weight to it but delivers next to nothing in the way of feedback, and there's a noticeable amount of body roll and understeer when cornering hard. Keener drivers will be better served by either the Cupra Ateca or SEAT Ateca. 
If you do decide to stick with the 1.3-litre mild-hybrid DIG-T set-up, there's a choice of either a six-speed manual or CVT automatic transmission, but we think the manual is the better option – it's around £1,600 cheaper and is reasonably slick, while the CVT doesn't feel as capable as a regular auto.
0-62mph acceleration and top speed
The Qashqai's 1.3-litre engine is reasonably refined, and only becomes a little coarse under hard acceleration, although it's not a particularly noisy unit. The 138bhp version offers passable performance, with 0-62mph taking 10.2 seconds and a 122mph maximum.
Moving up to the 156bhp car improves things a little, with the quickest version being the front-wheel drive auto which takes 9.2 seconds to reach 62mph from a standstill. The six-speed manual variant is a touch slower, needing 9.5 seconds to reach the sprint benchmark. The e-Power model manages 0-62mph in 7.9 seconds.
MPG, CO2 and running costs
Qashqai buyers seeking lower day-to-day running costs will appreciate the more efficient e-Power models
The Qashqai 1.3-litre mild-hybrid petrol engine provides either 138bhp or 156bhp. The lower-powered unit returns up to 44.7mpg on the combined cycle, with CO2 emissions of 143g/km. Opting for the 156bhp version doesn't bring any significant reduction in economy, but adding four-wheel-drive sees a fall of around 3mpg and a CO2 figure of 156g/km.
Business users won't be hugely motivated by these numbers as, even with the basic Visia car, they'll be paying a 33 per cent Benefit-in-Kind rate, while a top-spec model is in the 36 per cent bracket. All models come with stop/start tech, along with an Eco drive mode to help eke out extra miles from a tank of fuel.
The Qashqai isn't offered with plug-in hybrid power like its rivals the Kia Sportage, Hyundai Tucson or Vauxhall Grandland. However, there is the Qashqai e-Power. It's technically a range-extending hybrid, as the petrol engine's sole purpose is to charge a 2.1kWh battery that feeds the electric motor that drives the front wheels. The result is up to 53.3mpg claimed, plus CO2 emissions of 119g/km, cutting the BIK rate down to 28 per cent.
Curiously, when we drove the e-Power model, the best we could manage in a heavily congested urban environment – where the more electrified powertrain should have shone – was 44mpg, and it wasn't until we escaped the city that the figure climbed to around 47mpg. 
Insurance groups
Buying an entry-level Qashqai Visia means that you won't be forking out too much cash to insure your new family wheels. The cheapest 138bhp version sits in group 11, although stepping up to Accenta Premium and N-Connecta variants only sees a rise to group 12.
The extra power of the 156bhp Accenta Premium CVT car puts it in group 15, with top-spec Tekna+ versions in group 16. In comparison, the Hyundai Tucson range starts from group 12 and climbs to group 20 for the 227bhp hybrid in the posh Ultimate specification.
The e-Power models will be more expensive to insure, starting in group 24 and rising to group 26 for a top-spec Tekna+ model.
You can get personalised car insurance quotes fast with our comparison tool powered by Quotezone...
Depreciation
With its sharper looks, enhanced interior quality and improved on-board tech adding to its desirability, our data suggests the latest Qashqai will hold onto around 52 per cent of its value after a three-year/36,000-mile ownership period in entry-level Visia and 1.5 Acenta e-Power forms. For comparison, the Ford Kuga and Hyundai Tucson both retain an average of 57 per cent.
To get an accurate valuation on a specific model check out our valuation tool...
Interior, design and technology
Nissan has sharpened up the Qashqai's looks, with top-end versions featuring plenty of luxury kit
The exterior look of the latest Qashqai isn't that far removed from the previous model, yet it delivers a smarter, more sophisticated appearance with bold surfacing, a sharp headlight/running light design and a fresh take on the company's signature V-Motion grille. It all adds up to give a more modern air, underpinned by a 35mm increase in length and 32mm in width.
The doors and front wings are now made from aluminium, with a composite boot lid also saving a few extra kilos of weight. Overall, the Qashqai has shed 60kg compared to the previous model, while being 48 per cent stiffer, which Nissan claims helps improve ride comfort, refinement and driving responses from the car. The manufacturer has also revised the Qashqai's CMF platform (now called CMF-C) to help accommodate its hybrid tech and to improve packaging.
Inside the cabin, you'll notice a definite boost in perceived quality, with soft-touch materials on the dash and door cards, although we prefer the classier and more tech-filled cabin of the Kia Sportage or Hyundai Tucson.
The top-spec Tekna+ trim includes a host of luxury kit such as quilted leather upholstery, electrically adjustable front seats with heating, massage and memory functions for the driver's seat, a heated steering wheel, a fixed glass roof and an automatic tailgate. The entry-level Visia and Acenta trims are a little sparse, while the N-Connecta model is the sweet spot in the range in our opinion because it comes with the 12.3-inch digital cockpit, 12.3-inch central touchscreen, wireless Apple CarPlay connectivity, front parking sensors and built-in sat-nav.
Buyers get a choice of 11 exterior paint colours, plus five two-tone paint schemes which pair a black roof with either grey, white, black, blue or red for the rest of bodywork. Wheel sizes depend on which trim you go for; base cars come with 17-inch steel rims, while top-of-the-range models get 20-inch diamond-cut alloy wheels.
Sat-nav, stereo and infotainment
In-car tech has been an area where the Qashqai has lagged behind its rivals, so Nissan has worked hard to improve its set-up for this third-gen version. And it has made a massive step up from the old car. There's a 12.3-inch digital driver's display fitted to all but the most basic models and, while top-of-the-range Tekna+ gets a large head-up display. 
Entry-level cars don't get a touchscreen, just a DAB radio, and Acenta models get an eight-inch touchscreen like the one pictured above. But if you upgrade to N-Connecta spec or above, you're rewarded with the largest 12.3-inch display. The main infotainment system is better than the previous Qashqai's, although the graphics look a little dated compared to the set-ups in the Hyundai Tucson or Kia Sportage.
It does score highly, however, in its speed of response to touches and loading times. The process from typing a postcode on the touchscreen to a fully loaded route giving instructions takes just 19 seconds. Physical controls for the volume and main shortcuts come in handy, while the screen's position on the dash is easy to use on the move.
Practicality, comfort and boot space
There's a lot to like about the Qashqai's practicality, but it lags behind some rivals for interior space
Family buyers will be impressed by some of the practical touches Nissan has introduced to the third-generation Qashqai. The rear doors now open to a full 85 degrees, which means – provided there isn't a car parked close next to you – that fitting a child seat (and even putting a child into their child seat) should be easier, while a reversible boot floor with a wipe-clean surface is a useful addition.
The front seats are comfortable and supportive, with all Qashqai models featuring a multi-function steering wheel with reach and rake adjustment, a front centre armrest, front cupholders and 60:40 split-folding rear seats.
Size
The latest Qashqai is a bigger car than the second-generation model it replaces, at 4,425mm in length, 1,625mm in height, and 1,835mm (2,084mm including mirrors) in width. A 35mm increase in length, and 32mm of extra width mean it's still a little smaller than a Ford Kuga, but pretty much the same size as a Peugeot 3008.
Leg room, head room and passenger space
If you take the improvements made by the third-gen Qashqai in isolation and measure it solely against its predecessor, then it's a job well done by Nissan. Kneeroom is up 20mm, while Nissan claims occupants should be better off with 28mm of extra shoulder room.
However, during our own tests, we found the Qashqai to have less headroom when compared with the Peugeot 3008 and Hyundai Tucson, nor is it as roomy inside as a Vauxhall Grandland or Skoda Karoq. There's still plenty of space for passengers under six feet, and overall, it's roomy enough for daily use. However, there's no question that its rivals are a bit bigger inside. Buyers thinking about adding the panoramic sunroof should also be aware that this further eats into headroom.
Boot
Nissan has worked hard to boost practicality for the Qashqai, with the new car's boot delivering 49 litres of extra storage space over the outgoing model. But its 504-litre maximum capacity is still down on the Peugeot 3008, Hyundai Tucson and Kia Sportage. In fact, the N-Connecta, Tekna and Tekna+ versions have a reduced 479-litre boot capacity due to standard fit luggage boards, which separate the boot into individual sections. There's no loss in luggage capacity for hybrid Qashqai e-Power compared with the 1.3-litre mild-hybrid version.
The Qashqai also has a higher boot lip, so buyers will find loading heavier items more of a pain than it should be, while Nissan has missed a trick by not fitting levers in the boot that enable you to quickly release the rear seats when folding them down. That's a shame because little details like these make family life just that bit easier. The Nissan trails its rivals with its rear seats down, with just 1,422 litres available compared to the roughly 1,800 litres you get in a Sportage, Tucson or Karoq.
Towing
The towing capacity of the Qashqai depends on which engine you choose, but all petrol versions should provide enough capability for most buyer's needs. The maximum braked trailer towing capacity ranges from 1,400kg for the front-wheel-drive 138bhp model, to 1,800kg for the more powerful 156bhp version.
Don't pick the e-Power model if you plan to pull a caravan, because it only has 750kg of towing capacity.
Reliability and Safety
Standard safety kit is excellent, and it's helped the Qashqai achieve a five-star Euro NCAP rating
​​Nissan finished in a middling 19th position (out of 32 car brands) in our 2023 Driver Power manufacturer ratings, falling behind rivals such as Kia, Toyota, Honda, and Hyundai, but ahead of Skoda, SEAT, Vauxhall, VW, Ford, and Renault.
Family buyers, in particular, will be impressed by the Qashqai's five-star safety rating from industry body Euro NCAP in 2021. Both adult and child occupant safety are rated at 91 per cent, with Safety Assist systems scoring an outstanding 95 per cent.
Standard kit is comprehensive, with Nissan's Intelligent Mobility tech including a blind spot warning to alert you to cars approaching beside you on the motorway, a rear cross traffic system to alert to cars crossing from behind when reversing, traffic sign recognition to let you know of the speed limit, an automatic emergency braking system with pedestrian and cyclist recognition to prevent collisions with vulnerable road users, a forward collision warning to alert you if it thinks you're about to collide with something, Intelligent cruise control to keep you a safe distance from the car in front, and a high beam assist function to automatically put the main beam on when there's no oncoming traffic to dazzle.
Warranty
Nissan offers a standard three-year/60,000-mile warranty for the Qashqai, although if you pay an extra £340 you can extend your Qashqai's warranty for an additional 12 months, but the 60,000-mile limit still applies. You also get three years of free roadside assistance with the Qashqai.
Servicing
Service intervals for petrol versions of the Qashqai are annually or every 18,000 miles, whichever comes first, while fixed-price service plans are available from your local Nissan dealer.
The hybrid e-Power requires more regular maintenance, needing a service every 9,000 miles or annually, whichever comes first.
For an alternative review of the Nissan Qashqai, visit our sister site carbuyer.co.uk...