Lexus LS 600h vs rivals
The luxurious new Lexus LS 600h takes on two hybrid limousines from rivals Audi and BMW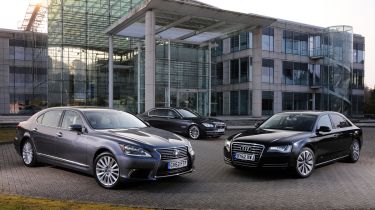 For the past few years, Lexus has been the only maker to offer hybrid luxury cars – but now some new rivals have arrived to turn up the heat.
In an effort to stay ahead, Lexus has treated its range-topping LS 600h to a host of upgrades. Yet it retains the old car's 5.0-litre V8 and electric motor, which aim to deliver strong performance and refinement with a dash of extra efficiency.
It also comes with an array of hi-tech standard equipment, including all-LED headlamps and a reclining and massaging rear seat. There's a whopping £99,495 price tag to consider, though.
You'll pay around £30,000 less for the long-wheelbase BMW ActiveHybrid 7, which isn't quite as luxuriously appointed as the Lexus, but promises to match it for power and performance. As with its cheaper 3 Series and 5 Series cousins, it uses a straight-six engine that's connected to a small electric motor.
Completing our trio is the Audi A8L Hybrid, which combines a small-capacity four-cylinder engine with an electric motor to deliver diesel-rivalling economy with big-hearted performance. So which of our futuristic limousines makes the most sense? Read on to find out.
Verdict
All of our luxurious hybrid contenders are packed with hi-tech engineering and deliver comfortable and relaxing driving experiences. Yet if you're looking to cut your limousine running costs, none of the cars here makes as much sense as a traditional diesel model.
If you do want something a little different, though, which is best? First to fall is the Lexus. It's well built, whisper quiet and comes packed with standard kit, but it struggles to justify its whopping £100,000 price tag in this company.
Separating the BMW and Audi is trickier. The ActiveHybrid 7 is blisteringly quick, and is surprisingly fun to drive. However, the trade-off for this performance is disappointing fuel economy. On top of that, its roomy cabin simply doesn't feel special enough.
So by the very narrowest of margins, the Audi takes victory. Look beyond its rather bland styling and you'll discover an effortless engine that comes closest to delivering on the hybrid claims of power and efficiency. It also has the most upmarket interior.