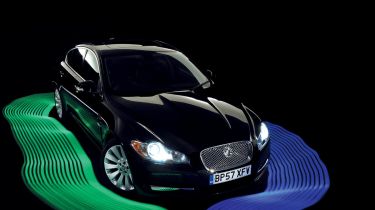 CAR OF THE YEAR: Jaguar XF
Drum roll, please! The Auto Express New Car Honours 2008 Car of the Year is... Jaguar's stunning XF.
The Coventry-built saloon is a machine which has proved the doubters wrong. It's a car that impresses on every level, from design to driveability, practicality to price. But that's not the only reason why our judges chose it. Our winner has raised the standards in a class where excellence is the norm. It's a homegrown package, designed and developed in the UK, and built by a highly skilled workforce. Our congratulations go to everyone involved in the newcomer's conception, design, development and production.
And winning this year's top prize was a tough task. The first hurdle for the XF was to unseat last year's champion, the Ford Mondeo. With a range that has been strengthened over the last 12 months with the introduction of a new diesel flagship, the Ford won two awards in 2008, and was in with a real shout of hanging on to the overall title.
Then there's the Audi A4. Any model that can knock the likes of the BMW 3-Series off the top spot in the compact executive class will always be in the running for top honours.
The truth is that any one of our category champions could have driven away with the coveted Car of the Year prize. Yet none could match the all-round appeal, importance or feelgood factor of the Jaguar XF.