Best used cars to buy now
We reveal our favourite second-hand cars across every market sector in the 2021 Used Car Awards
Auto Express covers the very latest new models every week, but our used-car pages are packed with information designed to help you buy a variety of second-hand models – and buy them well. Here we've rounded up what we think are the very best used car options on sale today.
You'll find models of all shapes and sizes in the 2021 Used Car Awards from city cars to sports cars to SUVs and more. Prices start from £2,000, so there should be plenty to whet your appetite.
With a proliferation of new cars on the market, the used sector is more packed than ever. Yet the pandemic has seen an unprecedented change in market conditions; due to the enforced slowdown in new-model production, second-hand values are rising because fewer used cars are heading back onto dealers' forecourts. But things aren't necessarily what they seem, as we'll see.
Finance quotes from BuyaCar
With so many cars bought using some kind of finance, the monthly costs are arguably more important than the screen price. We've teamed up with our sister site BuyaCar.co.uk to demonstrate what those "monthlies" might be. The examples we quote for our award winners on the links below are based on a 36-month Personal Contract Purchase (PCP) in most cases (we've given you a Hire Purchase option if not), and for buyers with an excellent credit rating. Deposits are 10 per cent of the cash price, rounded up to the nearest £50.
Used Car Awards 2021: the best used cars to buy now
​​How to buy a used car
Regardless of what you're buying, or where you're buying it from, there are three golden rules when it comes to used cars. The first is to buy the very best that you can afford; don't underestimate the convenience of a local dealer, but casting your search net a little wider is more likely to yield results, whether that's a newer car, or one that's better equipped, cheaper or has covered fewer miles. Factor in all these things before you take the plunge.
Secondly, do your homework. It doesn't matter if you're buying from an online retailer, dealership, private sale or auction (an option that's usually best left to the hardened car buyer): understand the make, model, prices and what you should be looking for, be it common faults, desirable options or ensuring key maintenance has been carried out.
Thirdly, and most importantly, understand the car's history. A good retailer should have already carried out a thorough vehicle-history check, but it doesn't hurt to conduct your own – and it's essential if you're buying privately, where you'll have little comeback should you get a dud.
Where to buy a used car
There have never been more options when it comes to where to buy, although most of the cars on the coming pages are on the newer side and so less likely to be sold privately. But regardless of where you're buying from, head over to autoexpress.co.uk/tips-advice for lots of useful information.
Independent dealers are still a major draw for the used-car buyer; without the overheads of big franchised dealers, they can often cut a great deal. But franchised dealers, with the support of major car makers, offer plenty of reassurance and, more often than not, a manufacturer-backed warranty. They also generally get access to the best and newest used-car stock, and many of these models will be available on an "approved used" scheme. The details of these programmes vary between brands, but you can expect approved models to have a full main-dealer service history, be mechanically and cosmetically inspected, and have undergone a history check ensuring that the car hasn't previously been written off, or isn't subject to outstanding finance.
The past few years have seen a proliferation of online retailers, including our sister firm BuyaCar, which has provided the finance examples you see here. The premise couldn't be simpler: you search for a car you like online, then you can pay for the car or apply for finance, arrange your part-exchange and delivery, all from the comfort of your laptop. It's an easy, hassle-free and haggle-free method that more and more used-car buyers are using.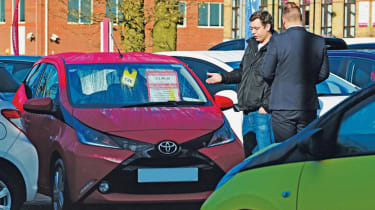 Cost of changing your car
In 2021, the values of good used vehicles have actually increased. Yes, you read that right; in fact, those boosted prices have seen some of the winners in the 2020 Used Car Awards knocked off their perches. It's not unusual for some models to cost you £1,500 more this year than last; according to pricing specialist CAP HPI, the value of three-year-old cars grew by an average of 13.5 per cent in the three months to July 2021.
That's due to around one million fewer cars being registered over the past 18 months, thanks to lockdown restrictions and the resulting factory shutdowns, plus an ongoing shortage of semiconductor components.
With such a price increase, it's easy to put off that used purchase. But before you do, consider this; the real cost of your new car is the cost to change – not simply the screen price you'll see in the virtual or bricks-and-mortar showroom. And that cost to change could be a lot less than you think, not least because older models are also worth more. CAP HPI says values of five-year-old cars have increased by 7.7 per cent – so in short, while the one you're looking at has got more expensive, it's very likely your part-exchange will be worth more, too.
In order to calculate the cost to change, you'll need to know the price you're paying for the car, the finance APR you'll pay, less any incentives or price cuts the dealer offers, plus the value of your part-ex.
All of this means it's more important than ever for you to run the numbers and do your homework to ensure you walk away with a good used car – and an even better deal.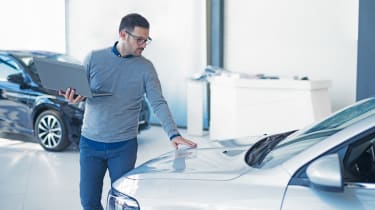 What to buy
The subject of what to buy has rarely been more complex, and the "electric good, diesel bad" narrative is strong. But is it always the case? Simply, no. EVs have their place on buyers' shopping lists, as much as petrol, hybrid or diesel vehicles. The real issue is how you're planning to use the car. For many who can afford the premium, EVs are perfect around town. They offer the smoothness, refinement and responsiveness urban motoring requires, along with rock-bottom running costs – especially in cities that offer incentives for electric cars.
Yet there are still many high-mileage motorists for whom a diesel's relaxed, effortless and efficient gait is ideal. Of course, if you're planning to drive daily on congested city streets, clearly there are better options.
It's also worth investigating plans for new clean-air zones in towns and cities near you, or ones you regularly visit. You should factor any additional road pricing into your cost-of-ownership calculations, although currently it is mostly older, more polluting vehicles that are being hit the hardest. Once again, it all comes back to doing your homework before you commit to your next car.
Find out if you should lease or buy a new car and visit our sister site Buyacar to put one of our 2020 Used Car Awards winners on your driveway. Happy bargain hunting!