Best Sporting Car
Nissan GT-R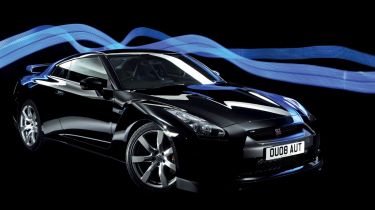 BEST SPORTING CAR: Nissan GT-R
Every so often, a new car comes along which is so far ahead of everything else that's gone before, it sends shockwaves through the market. That's what happened with the Nissan GT-R this year. It's so good, it offers more than many models costing twice the price.
When we tested the first official Nissan import in Issue 1,019, we were blown away by its performance. Not only is its straight-line pace staggering, but the technology employed to get the 473bhp power output on to the tarmac makes it safe, fun and more adjustable than anything else around. And as well as being one of the fastest road cars on the planet available for less than £53,000, the GT-R is one of the quickest under £100,000.
As with great Japanese hyper-performance models of the past, the Nissan is practical, too. The four-seater cabin is comfortable and reasonably spacious, while the boot is huge for this class. With all its electronic aids turned on, it's not particularly intimidating, either.
The one and only attribute the GT-R lacks is true supercar style – but it makes up for this with pure aggression. Order books are open now, and deposits are flooding in for the model that has put Nissan back on the performance map. The Japanese firm hasn't only lived up to the GT-R legend, it's moved the famous badge on to the next level.
Commended: Porsche Cayman, Audi R8
Shortlist: Nissan 350Z Nissan GT-R Porsche CaymanPorsche BoxsterPorsche 911Mitsubishi Evo X Audi R8Aston Martin V8 VantageSubaru Impreza STiVauxhall VXR8 BMW M3Lexus IS-F Mercedes C63 AMG