What is Porsche PDK?
It's more than just an automatic, but what is Porsche's PDK gearbox and how does it work?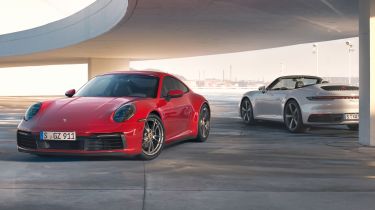 If you are thinking about buying a new or used Porsche, or if if you are just a fan of the brand, you may have seen the letters PDK appearing in the specification of a particular car and wondered what it stood for.
Put simply, PDK means a dual-clutch automatic gearbox; the name comes from the German 'Porsche Doppelkupplungsgetriebe' which translates as Porsche dual-clutch gearbox.
• DSG: what is a Direct Shift Gearbox?
The PDK system has largely replaced the conventional Tiptronic gearbox across the Porsche range since it was first introduced in 2007, although the current and previous generation Cayenne models still use a conventional automatic gearbox.
The basic principles of PDK are the same as with most dual-clutch gearboxes in that they have two clutches and, in essence, two gearboxes combined into one casing. One clutch operates on first, third, fifth, seventh and reverse gears, with the second clutch managing second, fourth and sixth gears.
Porsche originally trialled the technology in the 1960s and fitted it to its dominant 962 Group C racing cars, but it took another two decades of development before it was deemed fit for use in production road cars.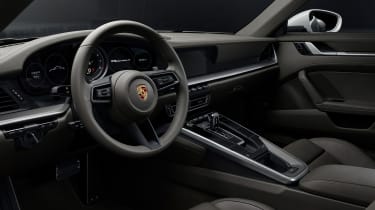 What this means is that, unlike a manual gearbox, when one gear disengages the next is engaged so quickly that the interruption in power is almost imperceptible, with shift times of under 100 milliseconds. This also improves acceleration times, as a 718 Cayman with a manual gearbox takes 5.3 seconds to reach 62mph from rest, whereas a PDK-equipped car can achieve the same sprint in 4.9 seconds - add the Sport Chrono package with launch control and this is further cut to 4.7 seconds.
The rapid and near-seamless shift speed boosts comfort as well as performance, with ultra-smooth shifting when the gearbox is left in fully automatic mode.
Conversely, all PDK models are fitted with paddle shifters or buttons that allow drivers to take control of shifting themselves, and here the speed of shift means sharp responses to the driver's inputs.
• Porsche Taycan Turbo S review
A further bonus with PDK is efficiency. Although the more complex gearbox weighs around 30kg more than an equivalent manual, the overall efficiency of the transmission is improved. As an example, the manual 718 Cayman claims a maximum WLTP combined consumption of 32.8mpg, compared to 33.2mpg for the PDK-equipped model.
Have you used Porsche's PDK gearbox? Let us know in the comments below...