Best Family Car
Ford Mondeo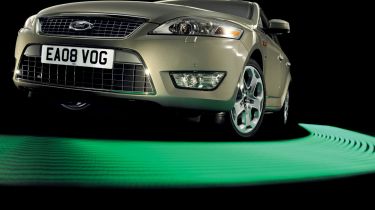 BEST FAMILY CAR: Ford Mondeo
Last year's champion is still sitting pretty in the family car class. Despite featuring in more Auto Express road tests than any other model in the last 12 months, the Mondeo has seen off the challenge from all rivals.
There is no other family car on sale which has the strength in depth of the big Ford. That's why it scooped the coveted title of Auto Express Car of the Year in 2007, and retains its gold medal in this sector this time around.
So what is it that makes the Mondeo so special? Firstly, its size. While critics claim it's easy to create more cabin space by designing a larger car, Ford has managed it without charging a premium over the previous generation.
What's more, it drives with the agility of a supermini. Until you've taken the wheel of a Mondeo, it's hard to understand how polished its dynamics are. Not only can it offer the smooth ride and long-distance cruising ability to match an executive saloon, but the way the Ford tackles a twisty road puts many smaller rivals to shame.
Another string to the Mondeo's bow is just how appealing it is right across the entire model range. Even the basic 1.8-litre petrol version benefits from the car's supreme practicality and great engineering. Brilliant to drive and as refined as any executive rival, the Mondeo sets a very high standard for Vauxhall's Insignia to beat.
Commended: Honda Accord (new)
Shortlist:Mazda 6 Ford MondeoVolkswagen Passat Honda Accord (new)Citroen C5 (new)Skoda Octavia