Best Compact SUV
Land Rover Freelander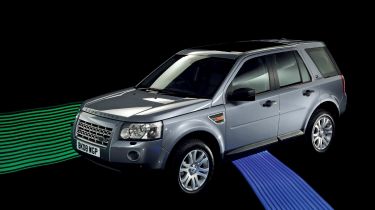 BEST COMPACT SUV: Land Rover Freelander
FEW firms have the off-road heritage of Land Rover – and that shows in the marque's line-up. When it comes to building compact SUVs, the Freelander is proof that the Solihull brand simply can't be beaten.
A raft of new arrivals have aimed to knock it off its perch in the past 12 months, but the smallest Land Rover reigns supreme. So what makes it so good? The answer lies in its terrific all-round abilities. It is hugely capable in the rough, but also manages to deliver a rewarding and refined on-road experience.
It feels more like a conventional hatch from behind the wheel, so choosing it as your only vehicle won't leave you thinking you've made sacrifices for the freedom to head off-road. The stylish exterior is mirrored inside with high-quality trim and plenty of space. The huge 755-litre boot makes it as practical as an estate, and the big cabin means it is a versatile family car. Then there's the lure of the badge, which easily matches premium brands for driveway appeal.
Engine choices are limited, with only one diesel – but the 2.2-litre TD4 is so good you don't need anything else. It provides a well judged mix of economy and pace, while a host of electronic gadgetry ensures you won't get stuck when the going gets really tough.
Commended: Ford Kuga and Nissan X-Trail
Shortlist: Land Rover Freelander (new winner)Honda CR-VHyundai Santa Fe Toyota RAV-4Vauxhall AntaraCitroen C-Crosser Nissan X-TrailChevrolet CaptivaJeep Wrangler Peugeot 4007 VW Tiguan Ford KugaMitsubishi Outlander