Small SUV of the Year 2021: Renault Captur
The Renault Captur is the 2021 Auto Express Small SUV of the Year, with the Ford Puma and Kia Niro/e-Niro commended
The Renault Captur grabs a second consecutive win in the Small SUV category in 2021. And like last year this practical, comfortable and great-value car is a winner for many of the same reasons as the Clio (Supermini of the Year) it shares its platform with.
The Captur is a bit larger than the Clio, but it's still an affordable offering that delivers plenty of space inside, the option of hybrid powertrains, and advanced technology – all things that small SUV buyers are looking for.
The rear seats are a great example of this because there's plenty of room back there for passengers, plus the bench seat slides back and forth so you can maximise either legroom or boot space to best suit your priorities.
There's between 422 and 536 litres of boot capacity depending on where the bench is set, so even at its smallest, the boot is a good size. It means the Captur is a great compact family SUV, offering the kind of versatility you'll need.
It rides smoothly even on bumpy roads, too, and while it's not the sharpest-handling small SUV, the Captur is easy to drive and park, helping it integrate seamlessly into daily life.
The cabin is smart, with good-quality materials and plenty of equipment. Even the smallest seven-inch touchscreen comes with sat-nav, Apple CarPlay and Android Auto, and it's nice and easy to use. Other spec-dependent equipment, such as a larger screen, parking sensors, autonomous emergency braking, lane-keep assist and cruise control, helps to make life easier, too.
Add in a range of efficient, refined petrol engines, plus a hybrid and a plug-in hybrid for those wanting more electrification, and there's plenty of choice. The Captur is strong in all the key areas for a small SUV, so it's already lined up for success, while its affordability – especially on finance – seals the win.
Best deal
Renault Captur TCe 90 Iconic (£20,800)
Just like the Clio, the full Captur range is currently offered with zero per cent APR on any two-year PCP deal. Place a 10 per cent deposit on the mid-range Iconic trim with the 89bhp turbocharged petrol engine, and you'll pay £322 each month; that's also including a further £500 deposit contribution from Renault.
Commended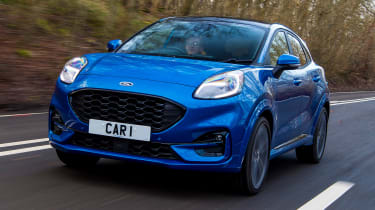 Our top pick in this class for keen drivers is the Ford Puma, because it's closely related to the Fiesta supermini and is a lot of fun from behind the wheel. However, it doesn't miss out on the practicality of other top small SUVs, thanks to its useful boot and decent space for passengers. Overall it runs the Captur close.
Kia Niro/e-Niro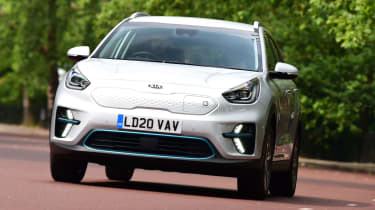 The Kia Niro and e-Niro are the best options at the moment if you want a small electrified SUV. The Niro offers hybrid and plug-in hybrid power, but if you can stretch to it, the e-Niro is the best of all. It has a hugely impressive 280-mile range (two battery options are available) and is comfy, well equipped and cheap to run.
New Car Awards 2021: the winners
Special edition of Auto Express
For the full experience, make sure you pick up a copy of our special New Car Awards collectors' edition of the Auto Express magazine, which is available in shops now.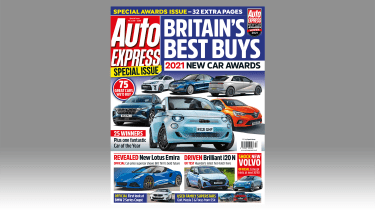 You can buy individual issues of Auto Express or subscribe for even bigger discounts on the magazine cover price. You can currently Subscribe and get 6 issues for just £1 or download our digital edition direct to your desktop, phone or tablet.