New Car Awards 2021: the winners
These are the best cars on sale today, the winners of the 2021 Auto Express New Car Awards...
Following a trying 2020 for us all, 2021 has been an opportunity to return to normality. It's also a year for the motor industry to bounce back; following the decimation of sales during the pandemic, the recovery has been rapid. 
New-car registrations were up 42.5 per cent on last year's numbers to the end of May, no doubt boosted by so many exciting new car releases. From sensible electric cars to wild sports cars, we've tested the lot – but we've also re-evaluated our categories to reflect the changes within the industry, not least the onset of electrification.
The 2021 New Car Awards categories reflect today's car market and the kinds of cars that you are buying. We're recognising the top models in the traditional market sectors from city car through to luxury car and then on through coupes and convertibles to hot hatches and performance cars.
There are six SUV awards as a result of that sector's continuing expansion and growth in popularity while we're also presenting three company car awards to reflect the diversity of automotive options now open to fleets and business users. There are also four awards for electric and hybrid vehicles, possibly the defining story of the car market in recent times. More and more consumers are considering cars with plugs and, as always, Auto Express is on hand to help you find the best model to spend your cash on.
The standard of the new cars on sale today really is remarkable and so is the pace of change as the world's car manufacturers rise to the challenges facing the industry. Across all of our New Car Award winners, excellence in design, technology and engineering is a given and that's what's propelled them to the head of such a competitive field.
Click the links below to find out all about the 2021 New Car Awards winners...
Special edition of Auto Express
For the full experience, make sure you pick up a copy of our special New Car Awards collectors' edition of the Auto Express magazine, which is available in shops now.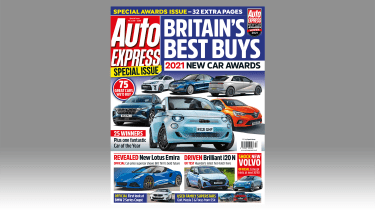 You can buy individual issues of Auto Express or subscribe for even bigger discounts on the magazine cover price. You can currently Subscribe and get 6 issues for just £1 or download our digital edition direct to your desktop, phone or tablet.
Stay right up to date with the latest from the world of cars in 2021 and beyond, follow Auto Express on social media...