Car of the Year 2021: Hyundai Ioniq 5
The Auto Express Car of the Year for 2021 is the all-electric Hyundai Ioniq 5
It's no mean feat to be crowned Auto Express Car of the Year. Our winner needs to have a huge range of talents; it should move the game on, and not just in its own segment, but in the new-car market as a whole. The Hyundai Ioniq 5 does exactly that. 
This year has seen the range of choice for EV buyers explode, and many of those new cars were in with a shout of taking the overall prize. But the Ioniq 5 truly excels on so many fronts. Firstly there's the design; it looks unlike anything else on the road, yet without being contrived or awkward. The cabin is another triumph, making the most of the car's electric architecture to offer limo-like legroom in a bright, lounge-like space.
It's here where Hyundai's slickest infotainment tech yet is found. The graphics are brighter and more attractive than the Korean firm's previous systems, yet the set-up keeps the clarity and ease of use that have earned the brand's tech our praise on so many previous occasions. Then there's the way the Ioniq 5 drives. Unlike many modern cars, it doesn't focus on a sporty ride, and instead takes a softer, more relaxed approach, so it's a wonderful long-distance cruiser.
But the key advantage lies in the car's electrical set-up. The Ioniq 5 uses tech that until now has been the preserve of EVs costing twice as much, including its 800-volt electrical system. Equipped with the largest 73kWh battery, the car will cover up to 298 miles on a charge, while the most potent model sprints from 0-62mph in 5.2 seconds. 
Yet the Ioniq 5 achieves all this for a very tempting price. Starting from £36,995, it costs little more than a combustion- engined family SUV. Compared with any petrol or diesel alternative, it really feels like a generational step ahead. It's a brilliant car and a deserved winner of our 2021 title.
New Car Awards 2021: the winners
Special edition of Auto Express
For the full experience, make sure you pick up a copy of our special New Car Awards collectors' edition of the Auto Express magazine, which is available in shops now.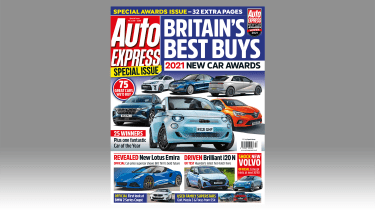 You can buy individual issues of Auto Express or subscribe for even bigger discounts on the magazine cover price. You can currently Subscribe and get 6 issues for just £1 or download our digital edition direct to your desktop, phone or tablet.