Performance Car of the Year 2021: Toyota GR Yaris
The Toyota GR Yaris is the 2021 Auto Express Performance Car of the Year, with the Ferrari Roma and Porsche 911 commended
This year's Performance Car champ is a true giant-killer, fighting off machines with twice the power and prices three times as high. The GR Yaris was one of the most eagerly anticipated arrivals of the year, and its blend of performance, poise and price means it hasn't disappointed. Few cars are as fun to drive, yet this pocket rocket is easy to live with and relatively affordable to run.
The car oozes motorsport appeal, and the Toyota gets your heart racing before you've even opened the door. With its bulging wheelarches, boot spoiler and muscular stance, the rally-inspired Yaris looks like it would be just as happy tackling a forest stage as the school run.
Yet it's the engaging way that the GR Yaris drives that truly marks it out as special. Stiffened suspension and a sophisticated four-wheel-drive system deliver tenacious grip and acrobatic agility, the 257bhp 1.6-litre turbocharged three-cylinder engine offers explosive acceleration, while the six-speed manual gearbox delivers a deliciously mechanical shift action. In the real world the Toyota delivers true supercar-slaying pace and on tight and twisty back roads, few cars will be able to keep up.
Take it easy and the GR is as easy to live with as any Yaris. It's well built, generously equipped and surprisingly practical, while an impressive warranty adds peace of mind. With prices starting from £30,000 it's not exactly cheap, but in terms of performance, driver fun and rarity (just 1,000 will come to the UK this year) the Toyota is a relative bargain when compared with the exotic machinery it's beaten to the crown.
Best deal
Toyota GR Yaris Circuit Pack (£33,520)
In creating the GR Yaris, Toyota has produced an exciting performance car that's in huge demand. Offers are still available, however; go for the hardcore Circuit Pack and there's a zero per cent finance deal on a two-year PCP. A 10 per cent deposit translates into monthly payments of £522.
Commended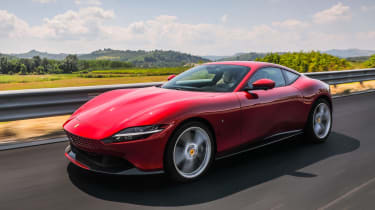 The beautiful Roma is a Ferrari grand tourer in the finest tradition. With its razor-sharp V8 turbo engine, pulverising performance and classic rear-wheel-drive layout, it's a keen driver's delight. Yet a luxurious cabin, decent space and plush ride mean that this is a prancing horse that will leave you relaxed and refreshed after a cross-continent dash.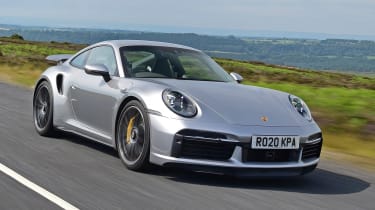 Porsche's evergreen 911 gets better with every passing year. More than half a century of evolution has helped the rear-engined machine become one of the greatest sports cars of all time. From the entry-level Carrera through to the 200mph Turbo S and track-focused GT3, the Porsche is brilliant to drive, while neat packaging means the 911 is more practical and usable than most performance cars.
New Car Awards 2021: the winners
Special edition of Auto Express
For the full experience, make sure you pick up a copy of our special New Car Awards collectors' edition of the Auto Express magazine, which is available in shops now.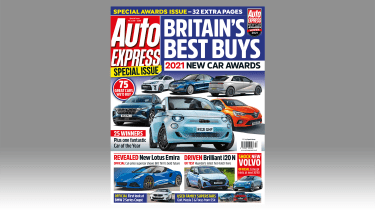 You can buy individual issues of Auto Express or subscribe for even bigger discounts on the magazine cover price. You can currently Subscribe and get 6 issues for just £1 or download our digital edition direct to your desktop, phone or tablet.