Luxury Car of the Year 2021: Bentley Flying Spur
The Bentley Flying Spur is the 2021 Auto Express Luxury Car of the Year, with the Mercedes S-Class and Rolls-Royce Ghost commended
For the second year in a row, our favourite luxury car is the Bentley Flying Spur. When it made the switch to the fantastic MSB platform used by other VW Group models, it marked a huge step forward, and it's still brilliant a year later.
The Bentley is all about comfort, and its ride quality is close to perfect, keeping you totally insulated from any bumps and potholes the road might throw up. The suspension deals with what's going on underneath you, leaving you to enjoy the super-comfy seats. Joining the twin-turbo 6.0-litre W12 model is the 4.0-litre V8 turbo, but you could easily forget what engine is powering the Flying Spur, because it's so smooth and quiet inside the cabin.
If you're a music lover, there's an optional Naim audio set-up linked to an excellent 12.3-inch touchscreen infotainment system that sounds as clear as in-car audio can get. There's a huge level of customisation when it comes to looks and materials, too, so you can have the Flying Spur just as you want it, while Bentley's build quality is exemplary.
Of course, there's lots of space in the cabin, so you can enjoy being driven rather than driving yourself – yet whoever is in the driving seat will be enjoying themselves, because the Flying Spur is also surprisingly sharp to drive.
The slightly lighter V8 engine boosts the car's handling and sounds great, and it offers more than enough torque, so performance is very strong in any gear at any time. That helps to make the Bentley a relaxing car to drive, but it's also very quick when you need it to be.
Okay, it's not cheap – but for the ultimate in luxury, the Flying Spur is simply peerless.
Best deal
Bentley Flying Spur V8 (£153,900)
Buyers at this level won't be haggling over monthly PCP figures, so instead we're recommending our top pick. We'd choose the V8 and add the sublime Naim audio system at £6,660, while the theatre of the Bentley Rotating Display is worth its £4,820 outlay.
Commended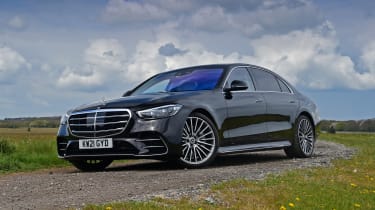 Mercedes' all-new S-Class is a tech masterclass, with autonomous driving features, an ultra-modern cabin and loads of kit. It doesn't ride as well as previous versions used to, but the latest S-Class is still one of the best big saloons around.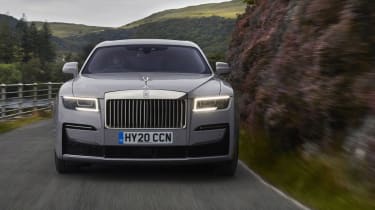 Supreme comfort and refinement, strong performance, loads of interesting tech features and impeccable quality mean the Ghost is a stunning machine. Yet it's far more expensive than the similarly luxurious Bentley, so its Crewe counterpart scores higher on value for money.
New Car Awards 2021: the winners
Special edition of Auto Express
For the full experience, make sure you pick up a copy of our special New Car Awards collectors' edition of the Auto Express magazine, which is available in shops now.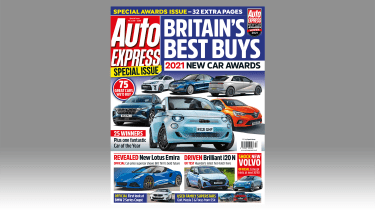 You can buy individual issues of Auto Express or subscribe for even bigger discounts on the magazine cover price. You can currently Subscribe and get 6 issues for just £1 or download our digital edition direct to your desktop, phone or tablet.