Technology Award 2021: Citroen Ami
The Citroen Ami is the 2021 Auto Express Technology Award winner
On first inspection, granting our Technology Award to the Citroen Ami might seem a little odd. After all, there's no infotainment system, or even a light switch. It lands its killer blow not with these fripperies, but with some exceptionally clever, almost Alec Issigonis-levels of thinking. Here, the Ami nails its brief perfectly. 
The smart design and engineering have a laser-like focus on simplicity and cost. Should the Ami come to the UK, expect a £5,450 price tag or rental through car- sharing schemes.
The push-me-pull-you styling means the same panels can be used front and rear; only the lights are different. The doors are identical, too, which means the left-hand one is rear-hinged, while the right opens in the usual fashion. 
Not only does that mean it's cheaper to make, but it's also cheaper to repair, which is particularly important in an urban environment. It's perfect for congested city streets; a minute turning circle and wheel-at-each-corner stance matter more here than its 28mph top speed. Most of all, though, the Ami is enormous fun.
New Car Awards 2021: the winners
Special edition of Auto Express
For the full experience, make sure you pick up a copy of our special New Car Awards collectors' edition of the Auto Express magazine, which is available in shops now.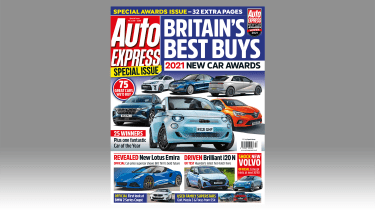 You can buy individual issues of Auto Express or subscribe for even bigger discounts on the magazine cover price. You can currently Subscribe and get 6 issues for just £1 or download our digital edition direct to your desktop, phone or tablet.